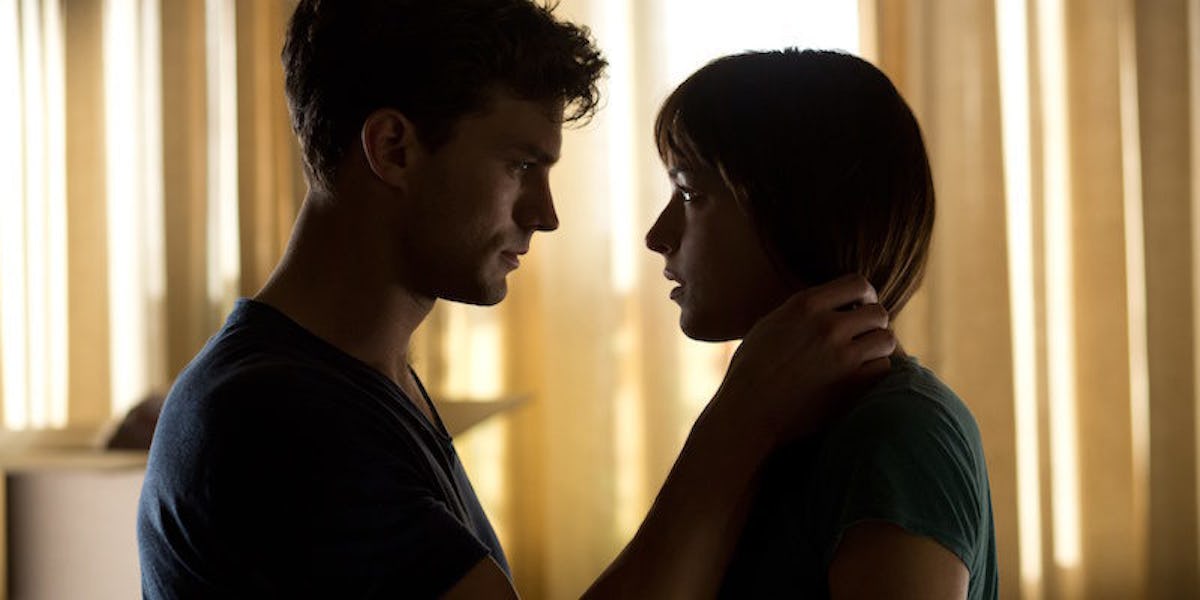 How Getting Into The BDSM Community Made Me An Ally To Women
Universal Pictures
If you found "Fifty Shades of Grey" to be racy, stop reading.
If whips and chains make you say, "Meh," and it takes a violet wand just to get you started, this article's for you.
I'm a Dom, and not in the "I control women in order to hide my insecurities" way.
I'm a sadist, and my mother is a wonderful woman.
I like tying people up, covering them in wax, flogging them, pushing their limits and learning what makes them tick.
There's something beautiful about pain.
It levels us, and it makes us reveal more about ourselves than simple pleasure ever could.
It purifies us and pursues us.
We run from it and use it as a reminder of what is real.
Sometimes it's a subtle weight, and sometimes it overwhelms everything.
I play to learn, and I learn so I can play.
But before I got into BDSM and all the other things I do to offend your grandmother, I was a grade-A dick.
I was 6-foot walking billboard for Gen-Y douchery, and it took unleashing my inner Dom to turn into an actually nice person.
Don't believe me?
Here are some reasons why:
Being A Dom Made Me Understand Consent
The kink community is one of the biggest advocates for informed consent around.
When you're pushing people past their limits, making them explore physical sensations or emotional states that aren't otherwise accessible and engaging in role-playing non-consent, you have to know everyone is on board.
Pre-negotiation of sexual contact?
Check.
Detailed conversation about hard and soft limits? Safe words?
Check.
Mid-scene check-ins?
Check.
Willingness to end the scene if their body language is off?
Check.
Understanding that social power dynamics may pressure someone into providing dubious consent?
Check.
As a sadist, reflecting on what I do in the play space can be pretty heavy.
While I might not be causing lasting harm, I'm definitely causing pain and putting people into emotional states that can be hard to recover from.
While I know they consented to it (because, like a good Dom, I check in with them both after the scene and the next day), I'm still worried about pushing them too far.
Consent is active and informed, not an afterthought.
And it means I get to take you out for coffee and talk about all the kinky stuff we're into.
It makes for a kickin' third date.
Being A Dom Made Me Understand Sexual Guilt
Raise your hand if sex ever made you feel guilty, shameful or depressed.
In the kink community, the term for that is drop.
Drop is experienced by both tops and bottoms, and it involves feelings similar to those described above, as well as the occasional flu-like symptoms and other indicators of high stress levels.
Everyone experiences it at some point.
And that's perfectly okay.
Since sexuality is handled in such a strange way in America, a lot of people feel uncomfortable expressing it.
It might conflict with their religion or how they were raised, and it might conflict with their body image or how comfortable they are with being sexualized.
They might enjoy it in the moment, then feel ashamed afterward without knowing why.
And no matter how much logic you throw at it, that shame or that post-scene drop can't be analyzed logically right away.
It takes patience and good aftercare.
Getting into kink taught me people process their sexuality differently, and sometimes that means they need support or comfort afterward.
They're not strange, and they're not "broken."
If people are feeling down or ashamed of themselves (doesn't matter what it's about), and the only thing I can do to help is cuddle them and make them tea, then I'm going to cuddle them and make them tea.
Being A Dom Made Me Understand Trust
Here's a question for you, ladies: How many guys have you met who don't understand why men can be scary?
It's essentially my job to be scary when I'm in a scene.
I'm no hulking, no-name male porn star, but I can pretty much guarantee that I'm bigger, stronger and meaner than you are.
I know how to throw you around, I can tie you up with knots you've never seen before and I have an entire drawer of fun toys that will leave you reeling.
I'm comfortable and confident in what I do.
If I was that all of the time, I'd be an absolute assh*le.
But how is a stranger supposed to know the difference between the way I play and the way I behave in public, when the only thing they can judge me by is my suit?
How are people at a public dungeon supposed to trust me, if I haven't had a chance to sit down and talk to them first?
How is a hitchhiker supposed to know I'm not one of the crazy ones?
Quite simply, these people can't.
People are guarded, often because they've been burned before.
I can't change that by calling them out on it, or by accusing them of being paranoid pessimists.
The only thing I can do is be trustworthy and help them when I can.
There are a lot of people in the kink community who are working through past traumas, and often, the only thing they need from other people is time, patience and a willingness to understand.
If I'm going ask people to trust me enough to let me tie them up and spank them, they have to be 100 percent above-board with everything I do.
So yeah, kink made me a better person.
Even if it's not your cup of tea, the kink community is dedicated to sex education, consent and inclusivity.
And we throw awesome parties.