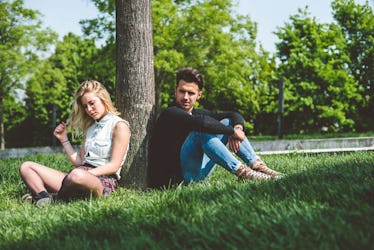 50 Shades Of Not-So-F*cked-Up: 5 Reasons Psychology Says BDSM Isn't Bad After All
After the "50 Shades of Grey" trailer debut, many women (men, as well, believe it or not) were left in a sex-infused frenzy over the highly-anticipated February 2015 release.
However, the movie has become subject to criticism for propagating the rape culture that seems to be prevalent in our society, as well as for silently encouraging violence and misogyny toward women in general.
Still, there are well-founded scientific explanations for the public's strong appreciation for the erotic fiction.
It's arguable that the film (and book), more than anything else, represents a shift in views on sexuality in the US and a progression toward acceptance.
Here are five reasons why BDSM is not something about which we should worry:
1. Some studies have shown that BDSM practitioners are psychologically healthier and happier than others.
Dutch researchers claim that all fetishes allow for healthier and happier human beings, as they tend to be "more outgoing and less neurotic."
What's most interesting, though, is that the BDSM-related findings only applied to the dominants and were inconclusive for the submissives, like Anastasia Steele.
To be fair, there is concern that the study's subjects weren't representative enough of the general population to demonstrate any inarguable facts.
It's also pertinent to note that most of these studies have been carried out in non-US regions, such as Germany and Northern Europe, which may reflect more open mentalities on sexual behaviors.
2. There's a direct correlation between BDSM and openness and security.
Surprise, surprise: These people are less affected by social rejection than the rest of us and are more secure with their identities in general.
3. Women make up two-thirds of submissives, but that mentality doesn't typically extend to their public lives.
A common assumption is that submissive behaviors in the bedroom extends to the outside lives of practitioners. However, no studies suggest this truth and when those who practice BDSM were questioned on the subject, most admitted that submissives, too, have high professional success.
4. Sex always incorporates subtle power games; BDSM is simply more explicit.
Think about it: Is it not common for men approach women, to instigate sexual relations and to "control" major decisions? Given these facts, all relationships include some semblance of a power struggle.
Plenty of couples break up due to lack of any "fire" or "life" in the relationship (e.g. they were no longer stimulated). When the fun and strong communication fail, people get bored and move on.
5. Evidently, this has been a long time coming.
According to a BDSM-bashing report from Slate, 20 to 30 years ago, 10 to 15 percent of people tried BDSM. In 1999, a German study claimed that two-thirds of women "wanted to be at the mercy of their partners from time to time." And, last year, BDSM-related searches by both men and women went up by 70 to 80 percent.
Culturally speaking, Rihanna's 2010 hit, "S&M," remains one of her most popular songs, and BDSM networking websites, like FetLife, have seen memberships more than double.
There's a stigma that comes with what's seen as "abnormal" sexual behavior, but it's apparent that the stigma is on its way out. And, why not?
Liberalism, acceptance and openness are three characteristics of which our world could use a little more. Whether you practice or not, any negative perception of a certain sub-culture or community is ill-advised. Open mind, open heart.
Photo Courtesy: Fanpop