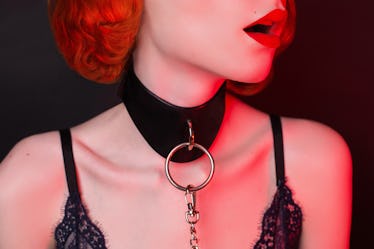 Experts Explain Why People Like Pain During Sex, & It Makes Sense
As someone whose sexual tastes run pretty vanilla, I've never personally understood the appeal of BDSM. Now let me be very clear: I don't think it's weird, shameful, or wrong if someone does. I don't judge anyone's personal preferences or kinks, so long as they're practiced consensually and safely. In that case, I will be the first person to cheer you on. It's all a part of having autonomy over your body and your sexuality, and that's amazing. But that doesn't stop me from being curious about it. Why do people like pain during sex? It's a valid question, and one worth exploring. Whether that's because you just want to better understand the appeal, or because it's something you've been considering exploring yourself.
To help answer these questions, I reached out to sex expert, educator, and professional domme Lola Jean and Dr. Jess O'Reilly, host of the @SexWithDrJess podcast, to help explain what it is about pain during sex that can be so enjoyable. Honestly, after talking with them, I totally get it now.
According to Jean, enjoying pain during sex has become fairly commonplace now thanks to the influence of porn, which has, to some extent, "normalized it," she tells Elite Daily. "Impact play is a gateway when it comes to kink and BDSM. Add in fetishization in pop culture and spanking almost becomes repertoire in sex." That's all the more reason to be unashamed if pain is something you enjoy during sex. But there is a difference between knowing what you like, and knowing why you like it. Here are the reasons the experts say folks get turned on by pain.