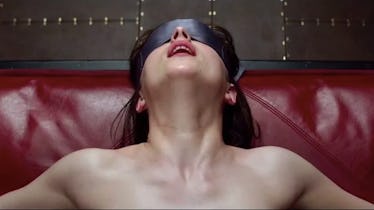 12 People Who Enjoy BDSM Reveal Their All-Time Favorite Kink
UNIVERSAL PICTURES
Talking about sex with the people you sleep with can be a super hot way to set the stage and grow comfortable before trying new things. Making sure all parties are feeling ready and at ease is paramount before trying something new, especially something new in the BDSM world. Asking the people you sleep with questions like: "What's your favorite kink?" or "What types of sex are you super into?" or "What have you always wanted to try?" can be a great way to open up a conversation about incorporating some new moves, while making sure that everyone is fully on board.
Whether you're unabashedly and totally kinky, or if you're just starting to look into BDSM, your sexual preferences are nothing to feel sheepish about. When it comes to sex, consent should be your number one priority. From sex toys and bondage, to role playing and skipping penetrative sex all together, to watching beauty tutorials on Youtube with a boo — it's totally cool to be into whatever it is that you're into. Once you've established that the people you're getting funky with are into what you're into, have at it — whatever it may be.
If you're looking for some fun BDSM-inspired moves to try, these 12 favorite kinks can serve up some great inspiration.