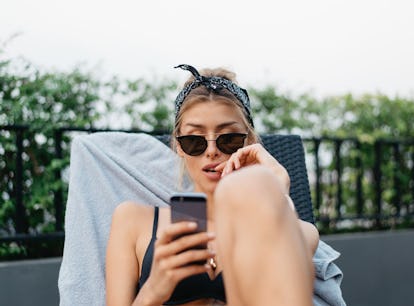 These 9 Erotica Apps Will Leave You Breathless Tonight
Whether you're single or in a relationship, reading erotica is an awesome way to explore what turns you on. When you don't feel like combing the web for sexy literature, or you'd like to have access to some scandalous inspiration on the go, there are plenty of erotica apps to download that'll spice up your sex life. Not only is reading sexy content fun, but it's also a great way to encourage your imagination to roam completely free of judgment. Reading or listening to sex stories on an application can also help you uncover new insights into how you experience pleasure.
If you're new to the world of sexy literature, Dr. Jess O'Reilly, Toronto-based sexologist and host of the Sex With Dr. Jess podcast, explains the differences between erotica and straight-up pornography. "Erotica allows your imagination to run wild," she tells Elite Daily. "While visual porn paints a picture for you, erotica (written or audio) allows you to be the artist. You can insert yourself into the scenes and scenarios and adjust the image in your mind to match your unique desires. While porn can feel more prescriptive, erotica leaves some space for you to insert details on your own."
Erotic apps are a healthy way to discover what makes you tick. Masturbating and understanding your sexual identity might even improve partnered sex because it's a low-stakes way to explore new positions, fantasies, and techniques that excite you. For those in relationships, adding some sex stories apps and erotica to your routine can also help you to explore and share fantasies with your partner. If you've been together for a while, it's all too easy to get stuck in a sexual rut. Integrating erotica into your foreplay is just one of many ways to reignite the passion. Reading sexual content has also been linked to an increase in the female sex drive for women experiencing low libidos, according to the Journal of Sex & Marital Therapy. So, if you need some sexy inspiration, here are nine erotic apps that will make you sweat.
Regardless of your relationship status or what turns you on, erotica can be the perfect way to experiment with sexually engaging content. Even if you're not interested in making your sexual fantasies a reality, sexy literature can offer a fun change of pace in the bedroom. So go on and get busy with your bad self. You deserve it.
Studies:
Balzer, Alexandra M.; Connelly, Kathleen; Heatherly, Rachel; Mintz, Laurie B.; Palaniappan, Meenakshi; Pierini, Danielle; Vogel Anderson, Katherine; Wimberley, Tessa. (2018) Skills Vs. Pills: Comparative Effectiveness for Low Sexual Desire in Women. Journal of Sex & Marital Therapy
Experts:
Dr. Jess O'Reilly, sexologist and host of Sex With Dr. Jess
This article was originally published on