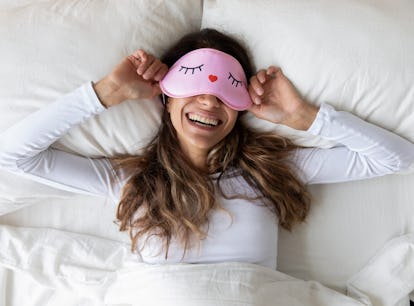 Touching Yourself Has 7 Wild Health Benefits, According To Sexperts
Self-care just got sexier.
Shutterstock
Masturbation. Solo sex. Touching yourself. These are just a smattering of the imaginative names that we've given the act of self-pleasure — of bringing ourselves to orgasm using nothing but our own two hands. (OK, our own two hands plus maybe a vibrator, some anal beads, a butt plug, some porn, and some erotic 18th-century literature.) In 2018, Cision PR Newswire reported that "78% of adults in the world masturbate," which includes 92% of American men and 76% of American women, according to the TENGA 2018 Global Self-Pleasure Report. But of those six billion global pleasure-seekers, how many could truly answer the question: Why does masturbation feel so good? I mean, orgasms, duh. But there's got to be more to it than that. For the biological explanation behind why masturbating feels good, I turned to the (s)experts.
Toronto-based sexologist Dr. Jessica O'Reilly, host of the @SexWithDrJess Podcast, explains that in your brain during orgasm, "the nucleus accumbens and ventral tegmental areas [aka, the parts of your brain that process reward to pleasure] are activated, and the center of reasoning and behavior shuts down entirely during the heights of pleasure." So, basically, all the pleasure sensors in your brain are on duty while your reasoning goes on a mini vacation.
"Research suggests that the pelvic nerve transmits sensations from the vagina and cervix … and the rectum and bladder," Dr. Jess elaborates. "The vagus nerve communicates signals from the cervix, uterus, and vagina, bypassing the spinal cord; the pudendal nerve carries information from the clitoris … and the hypogastric nerve transmits data from the uterus [and] cervix." Got all that? The nerves from your groin and abdomen are firing messages of pleasure, and your brain responds by lighting up all its pleasure centers. Your body basically becomes the Vegas strip of amazing sensations. So yeah, masturbation rules.
And while your pleasure centers are all throwing a party in your brain, Dr. Jess says various nerves in your body are also getting in on the action — so it's no wonder a killer orgasm leaves us all shook.
If that weren't enough, Dr. Adeeti Gupta, NYC-based OBGYN and founder of Walk IN GYN Care, adds yet another cherry on top of the orgasmic brownie sundae that is solo sex. "Masturbation or satisfying sexual experiences help balance out stress hormones" by "balancing cortisol levels." Anxiety? Never met her.
But the physiological pleasure of masturbation is only the half of it. Read on for more about why masturbation feels so good — and is so good for you.
Experts:
Dr. Jess O'Reilly, sexologist and author
Dr. Adeeti Gupta, NYC-based OBGYN and founder of Walk IN GYN Care, the nation's first walk-in center for complete women's health
Luke Thao, MA, LMFTA (Licensed Marriage and Family Therapist Associate)
This article was originally published on