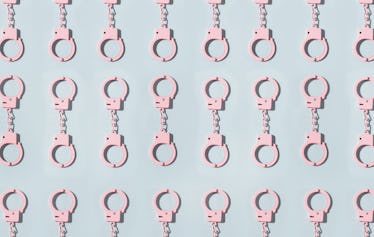 Experts Reveal Why Role-Playing Is Such A Massive Turn-On For Some People
Nurses and firefighters and schoolgirls... oh, my! Role-playing can be a huge turn-on for some couples, while others just aren't into the idea. Maybe you want to try out a naughty maid meets master of the house fantasy with your partner, but they're much more hesitant to give it a chance. Why is role-playing hot to some people and not so sexy to others? To better understand the psychology behind acting out specific fantasies in the bedroom, I spoke to two experts. I asked both a clinical psychologist and an intimacy coach about the needs that role-playing can help fill, as well as what kind of person tends to be most inclined toward role-playing scenarios.
If you don't like the idea of role-playing in the bedroom, that's perfectly normal, too. These fascinating insights aren't intended to convince you otherwise, though it's possible that the information might make you a little more open to the idea. And if you're super into channeling your sexual fantasies through role-play, the below reasons could help explain why. Basically, if you're at all curious about why role-playing is such a big turn-on for some people and not for others, it's time to stop wondering. Here are four possible explanations.