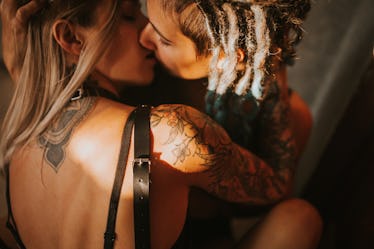 These 10 Super Hot Sex Positions Don't Require Any Penetration
Anastassiya Bezhekeneva/Moment/Getty Images
Let's be real: Most media (and the male gaze) has made us think that sex has to include some form of penetration. But the truth of the matter is that you 100% do not need penetration in order to have a roaring good time in the bedroom. In fact, more and more folks are realizing how fabulous sex can be without P-in-V or D-in-B — you just need to get a wee bit creative.
To help get those sexy wheels turning, Elite Daily chatted with sex educator and Ph.D. candidate Javay Frye and psychotherapist Rachel Wright. Both shed some light so that you can shed some clothes. (Or not! With non-penetrative sex positions, it's totally up to you.)
Regardless of what you try, remember that sex positions do not need to include anything fancy. The key is for you to experiment and find what feels good for you and your body — penetration totally optional.
Experts:
Javay Frye, sex educator and Ph.D. candidate
Rachel Wright, psychotherapist