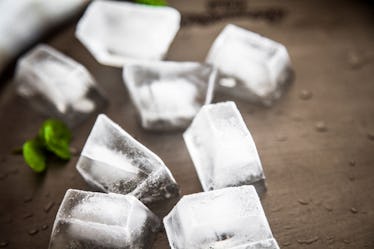 8 Tips For Using Ice During Sex That'll Make You Melt
Just FYI, don't insert the ice anywhere ~sensitive~
Fans had a lot of thoughts when Anastasia Steele and Christian Grey used ice cream as foreplay in Fifty Shades Freed, but viewers might have forgotten that the couple also experimented with ice play during sex in the first Fifty Shades film. From penis donuts to grapefruit blowjobs and smothering each other in whipped cream, people are fascinated by the joining together of their two most favorite sensory experiences: eating and sex. But is any of it as fun as it sounds? Is ice sex actually sexy, or just… cold?
Dr. Jess O'Reilly, Toronto-based sexologist, host of the Sex With Dr. Jess podcast, and co-author of The Ultimate Guide to Seduction & Foreplay: Techniques and Strategies for Mind-Blowing Sex, says not only is it sexy, but icy sex is a way of life for some. "Temperature play is more than a novelty for many lovers — especially tactile ones and those who crave [newness]," she tells Elite Daily. "Because your mouth maintains an average temperature of 98.2 degrees Fahrenheit and your hands likely average approximately 86 degrees, you can play with ice, hot mint tea, cool water, massage oil, refrigerated lube, and other accoutrements to inject variety and unpredictability into your routine."
So what exactly is temperature play? It involves using cold or hot objects to stimulate sensitive areas of the body, effectively shocking them into a heightened state of arousal. Ice cubes are a particularly accessible method of experimenting with temperatures (you've likely got some in your freezer right now!), making sex with ice especially popular. If you've always wanted to experiment with ice play but never knew where to start, you've come to the right place. Read on for the dos and don'ts of playing with ice cubes that will have you and your lover huddling for more than warmth.
Experts:
Dr. Jess O'Reilly, sexologist and host of Sex With Dr. Jess
Crista Anne Carroll, sex educator
This article was originally published on