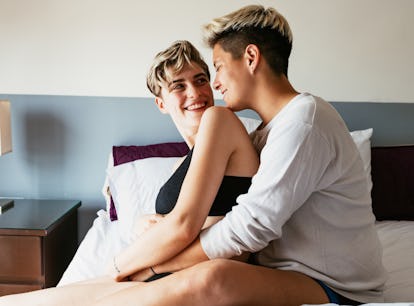 15 Budget-Friendly Sex Toys On Amazon That Have Super-High Reviews
Reviewers rave about these vibrators, plugs, clamps, and more.
Drazen_/E+/Getty Images
Let's be real: buying sex toys can feel intimidating. Going to a store IRL might mean fielding v personal questions from a salesperson. And ordering online can be just as awkward. Like, just how discreet is "discreet packaging"? That said, it only makes sense that you'd want to find your new favorite sex toy on Amazon. Besides the speedy shipping, the nondescript packaging and wide price ranges are two huge selling points. Considering there are plenty of budget-friendly sex toys with super-high reviews, why would you need to look anywhere else.
Dr. Logan Levkoff tells Elite Daily, "You don't need to spend a ton of money to get a vibrator that works for you." Of course, there are some benefits to splurging in the pleasure department. "There are some vibrators that are totally worth the extra cost. They are powerful, feel great, and can be used to heighten solo and partner sex," Levkoff said. But again, a higher price tag doesn't guarantee an O. Amazon has a range of prices, including some incredible deals (and free shipping with Prime), which serves as more proof that you don't need to visit a sex toy shop IRL to find something that really works.
Taking a closer look at the reviews — not the price — can reveal pretty much everything you need to know about your potential purchase. With that in mind, we rounded up 15 highly-rated and wallet-friendly sex toys on Amazon, and they're customer favorites for a reason.
The Expert
Dr. Logan Levkoff is a sexuality and relationship expert who has been a featured speaker at Harvard University, Yale University, University of Pennsylvania, and Cornell University. She's also spoked at events for Planned Parenthood, Step Up Women's Network, and The Center for Sexual Pleasure and Health.
In 2008, she received her Ph.D in Human Sexuality, Marriage, and Family Life Education from New York University.
We only include products that have been independently selected by Elite Daily's editorial team. However, we may receive a portion of sales if you purchase a product through a link in this article.
These toys — vibrators and otherwise — are some of the best-rated on Amazon. No matter what you're looking for (speed, patterns, intensity, etc.), there's an option that will work for you.