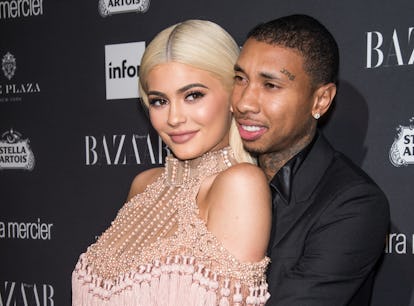 These 11 Celebs Got Tattoos Of Their Exes Removed And It's Pretty Awk
Forever isn't as long as it used to be.
Gilbert Carrasquillo/Getty Images Entertainment/Getty Images
When you're in love, you might do some pretty wild stuff, and IMO, getting a tattoo of your lover's name on your body tops the list. Stars like Kylie Jenner, Angelina Jolie, and Jhené Aiko know all about this, and as they — and other celebrities who got tattoos of their exes removed — can probably attest, it might not be the best decision. After all, feelings change over time. You might love someone today and dislike them tomorrow. And while celebs with tattoos dedicated to their boos may feel confident at the time, they may just end up with regret (and a large tattoo removal bill).
Pete Davidson and Ariana Grande are two of the many stars who got matching tattoos while dating, but since calling off their engagement in October 2018, both decided to part ways with their matching ink. While there's nothing wrong with getting a tattoo with a partner if you're really serious about them, just remember there are other ways to commemorate your love for someone. If you really want to show your partner you care, then do so with your actions. And next time you're thinking about walking into a tattoo parlor, keep these celeb tattoo removal stories in mind.
As you can see, it might not be the best idea to get your lover's name tattooed on your body. But if you feel really tempted, then try getting a fake tattoo. At least those don't last forever.