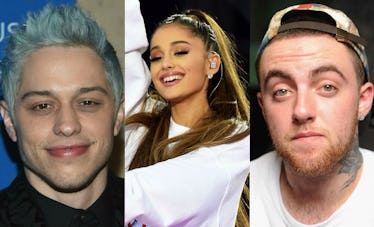 Ariana Grande Covered Up Her "8418" Tattoo For Pete Davidson With A Tribute To Mac Miller
Dimitrios Kambouris/Dave Hogan for One Love Manchester/Jamie McCarthy/Getty Images
Remember when Ariana Grande and Pete Davidson kept on getting tattoos in honor of each other while they were still dating, and we were all like, that'll be interesting if they break up? Well, here we are. They're broken up and covering up all of those tattoos, and it's definitely interesting! While Pete Davidson quickly covered up his bunny ears tattoo post-breakup, it appears that Ariana Grande covered up her "8418" tattoo for Pete Davidson only recently (or maybe no one noticed until now). Either way, she covered this tat up with a tribute to Mac Miller. Elite Daily reached out to Grande's team for comment, but did not hear back by the time of publication.
Grande is saying "thank u, next" to all of the tattoos she got in honor of Pete Davidson during their short-lived engagement. There was the cloud tattoo (which still appears to be intact), the "H2GKMO" tattoo (which stands for "honest to God, knock me out) on her hand, the "Pete" tattoo on her ring finger, and the "8418" tattoo on her foot. The cloud, "H2GKMO," and "8418" tattoos were all ones she got matching with Davidson. Davidson also got a set of black bunny ears inspired by the Dangerous Woman album behind his ear, as well as Grande's initials on his finger. He has since covered them all up.
The "8418" tattoo, while technically for her then-fiancé, was a tribute to Davidson's late father who died on 9/11. He was a firefighter and "8418" was his FDNY badge number. Now, in the "Thank U, Next" behind-the-scenes video, Grande reveals that she covered up the tattoo by having the name "Myron" tatted across it.
Thank u, next.
The tattoo reveal comes at around the 2:30 mark in the "Thank U, Next" behind-the-scenes video.
Although blurry, you can see the name "MYRON" written across the top of Grande's left foot where the "8418" used to be.
Grande is demonstrating the "Thank U, Next" take on the bend and snap from Legally Blonde with choreographers Brian and Scott Nicholson when she says, "Oh, I love my tattoos. I just went down to do the bend and snap and was like 'UGH, what a foot.'"
"Look at my Myron!" she says, pointing out the Myron tattoo. "Guys, look. How cool, right?" Myron is the name of Mac Miller's dog who lives with Grande now. Miller adopted Myron in January 2017 while he and Grande were still together. According to Us Weekly, Grande revealed in April that the doggo had been living with her for a couple of months by the time of her and Miller's breakup, and Myron has been living with her ever since Miller died in September of an accidental overdose. So while the tattoo cover-up is the name of her dog, it's a touching tribute to Mac Miller as well.
Grande closed out this segment of the behind-the-scenes video with possibly another reveal about Davidson. "Thank you, next. Don't send a text," Brian Nicholson says, to which Grande responds, "Thank you, next, I blocked ya." Welp! That's that.