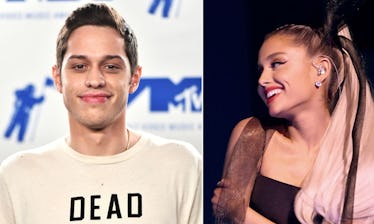 Pete Davidson Got "Ariana Grande" Tattoos & I Guess This Is Really Serious
ALBERTO E. RODRIGUEZ/GETTY IMAGES; KEVIN WINTER/GETTY IMAGES ENTERTAINMENT/GETTY IMAGES
Forget making things Instagram official: Pete Davidson and Ariana Grande are making a statement about their budding relationship with permanent ink. Even though the pair has been seeing each other for such a short amount of time, Pete Davidson got "Ariana Grande" tattoos, so I guess they're really serious.
With how things have been progressing, it looks like the couple that does Harry Potter cosplay together, stays together. Just days after the SNL funnyman hinted that things were definitely heating up by posting their first 'Gram together in matching Gryffindor costumes, Grande followed suit by posting a seriously loved-up selfie. As if the PDA and blissful smiles weren't enough, the "No Tears Left To Cry" songstress left no doubt of her feelings with her sweet caption:
i thought u into my life 💭 woah ! look at my mind 💡⚡️🙈
But when the comedian decided to get two new tattoos to pay homage to his new love, literally no one saw it coming. According to a photo shared by his tattoo artist on Saturday, June 2, Davidson made a "forever" gesture for his girlfriend of a few weeks by getting a tattoo of her unofficial logo, aka her Dangerous Woman bunny ears, behind his ear.
If this is all a little bit too much for you to handle, there's more, and it's extra AF. Because one grand gesture just wasn't enough, Davidson also got a tattoo on his finger with Grande's initials, and I'm shook.
London Reese from the Black Lantern is reportedly the artist behind the fresh ink, and he shared the black-and-white photo with the caption, "We had a good night."
Grande has yet to publicly comment on the new tattoos, which have understandably worked fans up into a frenzy on social media. After all, it was just ten days after her reported break-up with rapper Mac Miller and Davidson's with his girlfriend of two years, Cazzie David, when fans noticed that they had gotten matching tattoos of clouds on their left middle finger.
Before we all freak out with the latest additions, I think it's important to remember that this isn't the first time that the "Side to Side" songstress has taken her relationship to the tattoo parlor. Back in August 2016, she and former beau Mac Miller reportedly got inked together at the Shamrock Social Club in Los Angeles, according to Entertainment Online.
OK, so those weren't matching tattoos — Entertainment Online reports that Grande later took to Instagram and Snapchat to share photos of an "A" initial as well as the Venus symbol while the rapper reportedly chose a tattoo of a horizon — but maybe getting inked just isn't as big of a gesture to her as we all think it is. Either that, or they're madly in love, NBD. In any case, I can't remember the last time that Grande looked this happy, and it looks like they're definitely enjoying their budding relationship with flirty comments and the like, even if it's moving a little faster than I thought it would.
Fans may be waiting to see if Grande will return the gesture with a tattoo of her own, but it's unlikely as she recently got fresh ink behind her ear to commemorate the victims of the Manchester, England bombing during her May 22 concert last year. On May 24, 2018, the star took to Instagram to share a black-and-white shot of her bee tattoo, which she simply captioned, "Forever."
For now, it looks like this fledgling pair is moving on quickly and is here to stay. In the meantime, maybe someone could come up with a better couple nickname than "Pariana?"