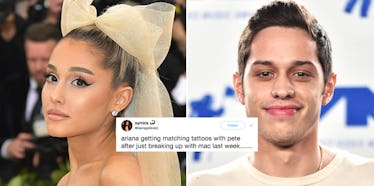 Ariana Grande & Pete Davidson Already Have Matching Tattoos & WAIT, What?
Neilson Barnard/Alberto E. Rodriguez/Getty Images/Twitter
Ariana Grande and Pete Davidson are... dating? Hooking up? Rebounding with each other? Honestly, I have no idea what is happening. All I know is Grande and Davidson might be a thing, and the Maciana stan in me is a puddle on the floor. On Monday, May 21, an anonymous source told E! News that Grande and Davidson are a thing. The source said "It just started and is casual," but they seem to have gotten matching freaking tattoos?! Yeah... Ariana Grande and Pete Davidson's matching tattoos, whether they're real or not, have the internet shook as hell. Elite Daily reached out to both Grande and Davidson's teams for comment on their reported relationship, but did not hear back by the time of publication.
The news of Grande and Mac Miller's breakup came just 10 days ago. Davidson and his girlfriend of two years, Cazzie David, reportedly broke up recently and Davidson confirmed the breakup on May 16. Now, Grande and Davidson are apparently a thing and have been spending time together. Whether that time is in person or through texting like most millennial ~things~ start out isn't known. But if they really got matching tattoos (guys, literally what is happening), they probably have been spending time together in person.
Fans are taking the fact that Grande was recently in New York for the Met Gala (where Davidson lives) and posted a cryptic Instagram caption as a clue that the rumors about her and the Saturday Night Live comedian are true.
She posted this Boomerang of her in a car in NYC on May 15. The caption was just the cloud emoji, which people are taking as the biggest clue.
Davidson's most recent Instagram post is from Friday, May 18, and it showed Davidson showing off his tattoos on his left arm and hand. On his middle finger of his left hand, eagle-eyed fans noticed there's a small tattoo of a cloud that looks exactly like the emoji Grande used in her Instagram caption. Some fans think they can see the same cloud tattoo in the same spot on Grande's left hand.
They're freaking out at the possibility of these two having matching tattoos.
Maciana stans are heartbroken over the possibility of Grande moving on so fast from Mac Miller. One fan tweeted, "Just because Ariana and Pete have the same tattoo doesn't mean they're dating... Ok maybe I'm being delusional but I just don't want to believe Ariana moved on that fast." I have a hard time believing this too... I'm not going to believe anything until the angel of music herself (Grande) confirms it, do you hear me?! Maciana isn't over until she says it's over!
Just kidding, she 100 percent already said it's over. After the news of her breakup with Miller broke, Grande took to social media to clear the air and confirm the breakup. She said on her Instagram story,
Hi! This is one of my best friends in the whole world and favorite people on the planet Malcolm McCormick. I respect and adore him endlessly and am grateful to have him in my life in any form, at all times regardless of how our relationship changes or what the universe holds for each of us!
A source told E! News that "Ariana was holding Mac together for a long time and it wasn't a good relationship for her. She is in a very good place and very happy now."
Another source told People that Grande and Miller's relationship was on the outs for a while, but the breakup became official around Coachella. They said, "Ariana and Mac officially broke up right after Coachella weekend, but they ultimately struggled for a long time with their relationship, and it was basically over last year."
But look, fam, the picture of Grande's apparent cloud tattoo is so blurry, I can't even make out what it really is. Grande and Davidson also both have multiple tattoos, so even if they do have a matching one, it might not have as deep of a meaning as it seems. But if there's one thing that's certain, it's that right now I'm in a state of mind... and that state of mind is very, very confused.