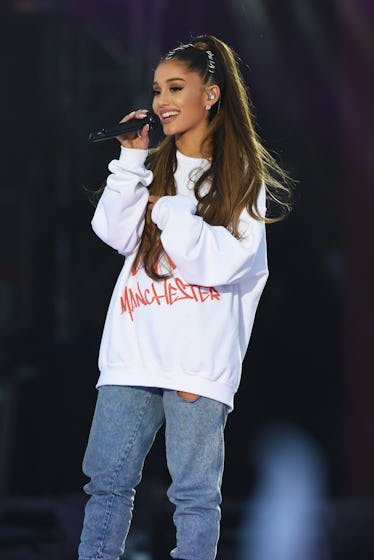 Ariana Grande Got A Tattoo To Honor The Manchester Attack & It's So Moving
Getty Images/Getty Images Entertainment/Getty Images
May 22 marked the one year anniversary of the tragic bombing in Manchester, U.K., which killed 22 people. In honor of the innocent souls who were affected by the attack, Ariana Grande's new tattoo is a tribute to those trying to heal from this tragedy. One thing is for certain, they will never be forgotten.
On May 24, Grande took to Instagram to share a glimpse of her latest tattoo, a delicate bee behind her ear. Along with the photo, Grande captioned the post "forever" as a way to show that she, as well as the rest of the world, will never forget the tragedy that struck the U.K. over a year ago. On May 22, 2017, Grande was set to perform in Manchester, U.K., but reports of explosions in Manchester Arena forced attendees to evacuate the space. Later, Manchester police confirmed that 22 people had lost their lives, and 60 were injured from the tragic bombing. That day, Grande took to Twitter to share her devastation from the attack.
She wrote,
broken. from the bottom of my heart, i am so so sorry. i don't have words.
On May 26, Grande released a statement about the attack, which urged the public not to give up in the face of fear, and to always stay strong.
Part of her statement read,
We will never be able to understand why events like this take place because it is not in our nature, which is why we shouldn't recoil. We will not quit or operate in fear. We won't let this divide us. We won't let hate win.
Along with Grande, numerous celebrities also shared their condolences following the bombing, and relief efforts to help those impacted quickly surfaced around the globe.
At first glance, it might not be obvious that Grande's bee tattoo is a nod to the Manchester attack. Not only is the worker bee Manchester's city symbol, but it has become a sign of strength and perseverance. On May 21, Grande took to Twitter to honor the one year anniversary in a very special statement, and it includes a very significant emoji.
She wrote,
thinking of you all today and every day I love you with all of me and am sending you all of the light and warmth I have to offer on this challenging day
Grande's tweet and Instagram aren't the only mentions of bees over the past few days. In fact, there's a bee featured in the last few seconds of Grande's "No Tears Left To Cry" music video, which she also performed at 2018 Billboard Music Awards.
There's no question that this tragedy shook the entire world, especially the U.K. Even though the bombing caused Grande to cancel part of her 2017 tour, the pop princess returned to Manchester, U.K. on June 4 to host the One Love Manchester benefit concert. All the proceeds from the concert benefitted the families of victims, and numerous celebrities appeared to show their support and perform, including Miley Cyrus, Justin Bieber, Katy Perry, Coldplay, and others. The benefit concert was a roaring success, and it raised $2.6 million to hep those affected by the senseless tragedy.
Even though it's been a year since the bombing, time can't heal all wounds. During an interview with TIME magazine on May 17, Grande spoke out about the Manchester attack, and revealed that it still hasn't gotten easier to talk despite the amount of time that's passed.
She said,
I wish there was more that I could fix. You think with time it'll become easier to talk about. Or you'll make peace with it. But every day I wait for that peace to come and it's still very painful.
Experiences such as these will never be easy to accept or understand. However, it's up to us to promote strength and support to those impacted by difficult times.