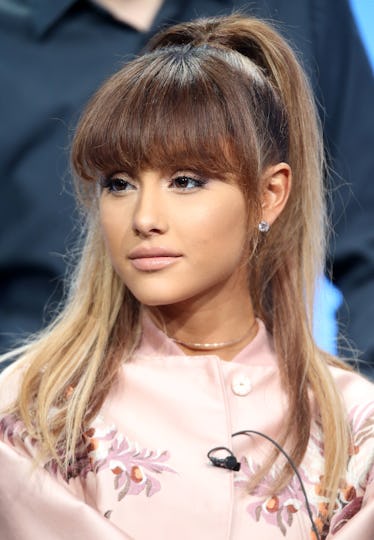 Ariana Grande Opened Up About The Manchester Attack In This Interview & It's Heartbreaking
Frederick M. Brown/Getty Images Entertainment/Getty Images
It's no secret that Ariana Grande has had to overcome some tough obstacles this past year. From a terrorist attack at her concert in Manchester to breaking up with her longtime boyfriend Mac Miller, Grande has been navigating a lot of difficult situations. But Grande is resilient and she wants her fans to be, too, especially after the Manchester incident. In fact, Ariana Grande's quotes about the Manchester attack in a recent interview are full of love, hope, and compassion. More than that, though, they signal that she's ready to heal.
In an interview with TIME magazine, Grande spoke at length about the affect the Manchester attack had on her and her fans:
There are so many people who have suffered such loss and pain. The processing part is going to take forever. I don't want to give it that much power. Something so negative. It's the absolute worst of humanity. That's why I did my best to react the way I did. The last thing I would ever want is for my fans to see something like that happen and think it won.
It's so clear that Grande really feels the pain of this incident and sympathizes with those who've lost so much.
The attack on Manchester occurred in May 2017, while Grande was performing at the Manchester Arena. Grande's response to the attack was to take a stand, and she did so with the utmost grace, humanity, and bravery. In June 2017, Grande took the stage in a massive concert orchestrated to benefit the victims. Grande called the concert One Love Manchester and, thanks to her incredible efforts, it was a huge success. According to TMZ, the concert raised over $12 million for victims of the Manchester attack.
Have a look at Grande's emotional performance at One Love Manchester:
In addition to opening up about the pain of the attack, Grande also explained that the incident is still very much on her mind and that music should be a safe haven:
Music is supposed to be the safest thing in the world. I think that's why it's still so heavy on my heart every single day.
Grande also seems to want to do more, but is at a loss for how to remedy what happened:
I wish there was more that I could fix. You think with time it'll become easier to talk about. Or you'll make peace with it. But every day I wait for that peace to come and it's still very painful.
At first glance, it seems as though Grande is carrying a lot of weight on her shoulders because of the attack. But, at the same time, she really is doing all she can to make the world a brighter place.
In addition to performing at the One Love Manchester concert, Grande also released a single called "No Tears Left to Cry." The song was released in April 2018 and tackles the concept of picking up the broken pieces of a situation and moving forward. It's kind of a power ballad that speaks to the singer's inner strength. With any luck, her young fan base will feel empowered by Grande's strength and by the song.
Now that Grande is releasing new music, there is one thing Grande fans can definitely look forward to: her performance at the 2018 Billboard Music Awards. Grande will be the opening act of the show, so her performance is highly anticipated. No word yet on what she's going to sing, but I'd put my money on "No Tears Left to Cry" for the win!
The show is being hosted by Kelly Clarkson and will air on Sunday, May 20. Be sure to tune in! Grande is sure to give an awesome performance.