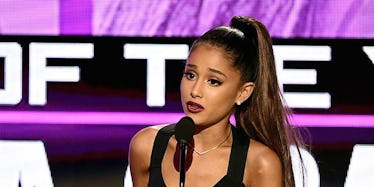 Ariana Grande Officially Cancels Part Of Tour After Manchester Attack
Getty Images
Ariana Grande officially canceled part of her Dangerous Woman tour following the attack at her concert that killed 22 people and injured dozens more.
UPDATE: Ariana Grande canceled her shows after the Manchester attack through June 5, 2017. Grande will reportedly return to her tour as of June 7, 2017 with a performance at the Accorhotels Arena in Paris, France, according to her website and the Associated Press.
EARLIER: In the initial aftermath of Monday night's horrific events, it was reported she had suspended her tour, but no official statement was made by her team.
On Wednesday, her management released the following statement to People:
Due to the tragic events in Manchester the Dangerous Woman tour with Ariana Grande has been suspended until we can further assess the situation and pay our proper respects to those lost. The London 02 shows this week have been cancelled as well as all shows thru June 5 in Switzerland. We ask at this time that we all continue to support the city of Manchester and all those families affected by this cowardice and senseless act of violence. Our way of life has once again been threatened but we will overcome this together.
On Monday night, Grande expressed her heartbreak at the situation, writing,
broken. from the bottom of my heart, i am so so sorry. i don't have words.
She has since returned to Florida with her mom and reunited with boyfriend Mac Miller.
Right now, her main headspace and focus is the victims and how she can help. It's less about her and her own state, and it's more about them. She's alive, she's safe. This isn't about her -- it's about the victims.
Grande's manager Scooter Braun also posted an emotional tribute on Instagram on Wednesday night along with the image her fandom -- the Arianators -- have been sharing on social media to show their support.
It's a mashup of her Dangerous Woman cover art and a peace sign.
He wrote,
The last 48 hours have been beyond devastating. As a father I cannot express my sorrow and my rage at this cowardice act... As I stated last night let's please all hold the victims, their families, and all those affected in our hearts and prayers. From myself and my friend @arianagrande... We are with you Manchester. We will not let evil win! Never!
There has been an outpouring of love this week from celebrities, fans, and people around the world.
Harry Styles, a Manchester native, altered his show in Mexico following the attack. He told a crowd of people,
I promise that we will be back very soon to Mexico — we will be back to do a full show. But tonight, if it's OK with you, we're gonna play a small acoustic set. I hope you understand and I hope you will join me in a moment of silence for all the victims and their families.
Currently, Grande's website lists her next tour date as June 7 in Paris.
Our continued thoughts and prayers go out to the victims' families, Ariana Grande, and the people of Manchester.
Citations: Ariana Grande Suspends Tour Following Manchester Terrorist Attack: 'We Will Overcome This Together' (People)