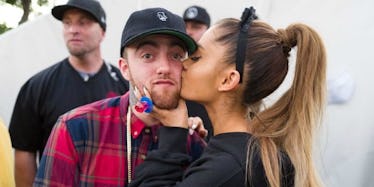 Ariana Grande Looks Heartbroken In First Pics After Concert Attack – PHOTOS
REX/Shutterstock
An emotional Ariana Grande has reunited with her boyfriend, rapper Mac Miller, in a Florida airport on Tuesday following the Manchester Arena attack.
The two shared a kiss, and Ariana seemed visibly shaken after a suicide bomber attacked her concert on Monday evening, claiming at least 22 lives.
Ariana and Miller have been in each other's lives since their collaboration on the 2013 song, The Way, and reconnected last September when they officially began dating. He is pictured above with open arms, ready to embrace Ariana as she exits the plane.
ET Online reports Ariana calls Miller her "best friend" and "soulmate."
After the attack, Ariana left England to be closer to her family, who live in her hometown of Boca Raton, and where Miller was waiting for her. A source told ET she is distraught -- and understandably so -- after such a horrific attack.
Ariana's mother, Joan, was also spotted at the airport with her daughter, and has been reported as a hero herself. Allegedly, Joan was seen ushering at least 10 children backstage to safety during the fall out of the explosion.
Both Joan and Mac Miller have yet to release any statements or posts, but Ariana tweeted out shortly after the incident. She said, "broken. from the bottom of my heart, i am so so sorry. i don't have words."
The tweet quickly received over a million retweets.
There has also been an outpour of love and support for Ariana and her victims from celebrity friends, including Manchester native Harry Styles.
At a concert in Mexico, Styles said,
I have played some of my favorite shows in Mexico and it felt right to come celebrate with you. But tonight, it doesn't feel like a night to celebrate. Last night, there was a tragedy in my hometown of Manchester. I am left with a hole in my heart. I went to my first show in that arena and I've have some of my best experiences in my life in Manchester. We have a choice every single day that we wake up of what you can put into the world, and I ask you to please choose love every single day. I promise that we will be back very soon to Mexico — we will be back to do a full show. But tonight, if it's okay with you, we're gonna play a small acoustic set. I hope you understand and I hope you will join me in a moment of silence for all the victims and their families.
Our continued support and love go out to Ariana at this time.
Citations: Ariana Grande Attack (ET Online)