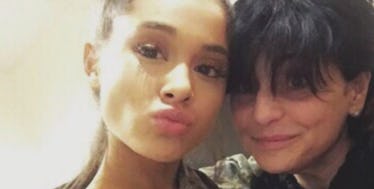 Ariana Grande's Mother Reportedly Took Fans Backstage To Protect Them From Attack
Snapchat
On Monday night, an explosion attack occurred at an Ariana Grande concert in Manchester Arena. Reports show there were at least 22 fatalities and many injuries.
TMZ reports Ariana Grande's mother, Joan, took fans backstage to protect them from the bomb and stayed with them until it was safe.
Allegedly when the bomb went off, Joan was sitting in the front row and immediately began to cater to young, terrified fans. Witnesses report she was surrounded by several concertgoers, and had taken them backstage where she could also meet up with her daughter.
Reports say there were roughly 10 young people with her and she remained with them until it was safe.
Since the news, there has been an outpour of love for Joan Grande on Twitter and fans are calling her a hero.
TMZ also reports Ariana is an "emotional wreck," understandably so, and has suspended the rest of her tour in the wake of the horrific incident.
On Monday night, Ariana tweeted, "broken. from the bottom of my heart, i am so so sorry. i don't have words." Since she posted, the tweet has been liked over a million times.
Joan has not yet released any statements or tweets of her own.
In our latest updates, it has been reported that police believe the attacker acted alone, and that he is now deceased. According to CNN, investigation into whether he was part of a broader terror network is underway.
For now, if you are looking for ways to support the victims at the concert or how you can help, one of the quickest action items you can do is repost and share photos of anyone still missing from the event. (Just please be sure you have your information, names and images correct before doing so!)
Elite Daily continues to send support to the families and victims affected by this horrific crime.
Citations: ARIANA GRANDE MOM HELPED RUSH FANS TO SAFETY (TMZ)