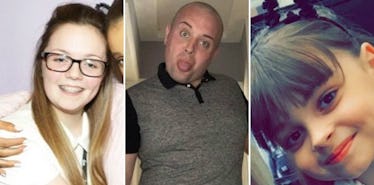 Here Are The Confirmed Victims From Ariana Grande Concert Attack In Manchester
Twitter
There are 22 confirmed fatalities and at least 59 injuries following the attack at Ariana Grande's concert at Manchester Arena last night.
At the end of the concert, concertgoers and Manchester residents heard a loud explosion and people rushed out of the stadium in a panic. According to NBC News, ISIS has claimed responsibility for the attack. However, it has not been confirmed and they "produced no evidence."
As of 10 a.m. ET on Tuesday, May 23, we have three confirmed identities of victims killed in the attack.
A source told the Evening Standard that Georgina died in the hospital with her mother by her side. She was a student at Runshaw College studying health and social care, and had met Ariana in 2015.
Runshaw College released the following statement:
It is with enormous sadness that it appears that one of the people who lost their lives in Monday's Manchester attack was one of our students here at Runshaw College… Our deepest sympathies, thoughts and prayers go out to all of Georgina's friends, family, and all of those affected by this loss.
The second confirmed fatality was 8-year-old Saffie Rose Roussos.
The Telegraph reports Saffie died from her injuries following the attack.
Chris Upton, the head teacher at Saffie's school, said in a statement, "Saffie was simply a beautiful little girl in every aspect of the word. She was loved by everyone."
According to Telegraph, Saffie's mother, Lisa and older sister Ashlee are being treated in separate hospitals for shrapnel injuries.
It has been reported that many of the injured victims are under 16 years old.
The third confirmed fatality, according to the Telegraph, was 26-year-old John Atkinson.
Atkinson was confirmed dead by his friends and family following the attack.
The Grande fan was from Radcliffe and was described by friends online as a "beautiful soul" and an "amazing young man," Telegraph reports.
Nana Julie Mills, a friend of Atkinson, wrote in a Facebook status, "Just heard one of my good friends whom I've known since he was a little boy passed away last night. Condolences to his family and friends. R.I.P John Atkinson."
Megan Hurley, 15, was the fourth victim identified.
According to Metro UK, Megan's age was not immediately known. But it has since been reported that she was 15 years old. There are currently no photos of Megan available. She reportedly had gone to the concert with her older brother and was a student at Halewood Academy in Liverpool.
In response to the news of Megan's death, Helen McDermott, a woman also from Liverpool, set up a fundraising page for Megan "to help fund a beautiful send off for Megan, who was taken far too early due to the awful attacks at Manchester Evening News Arena."
The JustGiving page has since raised over $4,000. McDermott said on the page,
Another target change!!! Can not believe how amazing so many people are we started with a target of£500 and I thought that was a push!! This is phenomenal I didn't think for a minute we could raise so much!! This young girl will have the best send off imaginable xxx
She is reportedly connected in some way to the Hurley family, but it is not clear how. McDermott says she is respecting the family's privacy by refraining from posting a picture of Megan.
Nell Jones, 14, was confirmed dead on Wednesday, May 24.
Metro UK reports Nell was on crutches at the concert due to a recent ligament surgery. She was missing for hours before being confirmed as one of the fatalities.
Her cousin, Hollie Webb, posted this Facebook status along with the above photo of Nell last night while searching for her:
This is our cousin Nell Jones aged 14 missing in Manchester after the concert last night, please could everybody share for our family, if anyone knows of anywhere we can try as we are heading to Manchester now x.
Nell was a student at Holmes Chapel Comprehensive and Sixth Form. The head teacher of her school, Dennis Oliver, said in a statement,
We are all devastated by the loss and as a school community must we must now come to terms with what has happened. Nell was a very bright and popular student. Her form tutor, David Wheeler, said, 'Nell was a very popular girl, always smiling, always positive. Her tutor group have been together since the transition from primary school. It feels like they have lost a sister not a classmate.
Olivia Campbell, 15, was confirmed dead by her mother early Wednesday morning.
Charlotte Campbell, Olivia's mother, posted a tribute to her 15-year-old daughter on Facebook after learning the news of her death, Metro UK reports. She said,
RIP my darling precious gorgeous girl Olivia Campbell taken far far to soon go sing with the angels and keep smiling mummy loves you so much.
Olivia had reportedly attended the concert with a friend named Adam who was being treated for injuries.
Campbell told BBC,
I last had contact with her at half past eight last night. She was at the concert, she'd just seen the support act and said she was having an amazing time and thanking me for letting her go.
Earlier on Tuesday, Campbell posted a video asking people to help her find her daughter.
Kelly Brewster, 32, died shielding her 34-year-old sister and 11-year-old niece from the blast.
Metro UK reports Brewster was walking out of the arena behind her older sister, Claire Booth, and her niece, Hollie Booth, in single file when the blast went off. She shielded the two of them from the blast.
Claire and Hollie survived, but suffered major injuries. Claire broke her jaw, and Hollie broke both of her legs, according to Metro UK. They are currently in the hospital.
Kelly's partner, Ian Winslow, said in a Facebook status last night,
Kelly really was the happiest she has ever been and we had so many things planned together. My daughter Phoebe will be absolutely devastated like we all are.
Lisa Lees, 47, and Alison Howe, 45, were waiting outside the venue for their daughters when they were killed.
Howe and Lees were friends and were picking their 15-year-old daughters up from the concert together. Their daughters are reportedly safe, according to Metro UK.
Howe's stepson, Jordan Howe, confirmed his stepmother's death in a Facebook post last night. He said,
They took a caring beautiful mum and step mother away from us all she was amazing to us all x love you loads Alison Howe xx.
Lees' brother, Lee Hunter, posted a Facebook status last night saying,
For those who don't know Lisa is gone but never ever forgotten I love you Lisa I'll miss you so much
Michelle Kiss was confirmed dead on Wednesday. She had taken two girls to the concert who are believed to be her daughters.
The Telegraph reports Michelle's niece, Laura Murray, confirmed her death in a Facebook status on Wednesday. She said, "It's true thank you everyone for your help we are all heartbroken."
According to the Telegraph, Michelle had posted a status before the concert saying, "Excited girlies ready to watch Ariana."
At least one of the two children is believed to be safe.
Martyn Hett, 29, was confirmed dead by his friends on May 24.
Hett, according to the Independent, had a large social media following after one of his tweets went viral in 2016. He tweeted about his heartbreak over the fact that his mother hadn't sold anything at a craft fair.
The tweet went viral, and within days his mother's online shop had sold out.
One of Hett's friend, Russell Hayward, said in a tweet confirming his death that Hett was "iconic and beautiful," adding, "He left this world exactly how he lived, centre of attention."
The statement was posted in a tweet early morning on Wednesday, May 24.
The tweet reads,
We got the news last night that our wonderful iconic and beautiful Martyn did not survive. He left this world exactly how he lived, centre of attention. I'm in a really bad way so please forgive if I don't reply. Thankfully I have this wonderful family and amazing friends to keep each other strong. I love you Martyn. I always will. X
Sorrel Leczkowski, 14.
According to Metro UK, Sorrell died in the hospital while her mother and grandmother were being treated for their injuries. Her grandmother is reportedly in critical condition.
There has been a fundraising campaign set up for Sorrell's mother, Samantha, so she doesn't have to "worry about returning to work after losing her daughter in Manchester attack and whilst she recovers in hospital."
Jane Tweddle-Taylor, 51. She was waiting for a friend's daughter outside the arena.
Tweddle-Taylor was waiting for her friend's daughter outside of the Manchester Arena when the blast went off.
She was a mother of three, a receptionist at a school in Blackpool, and the wife of a former Wrexham footballer Mark Taylor, according to Wales Online. Taylor spoke out about his wife's death, saying Jane was "lovely" and "full of life."
He said Jane was getting food with a friend while the friend's children were at the concert. Her friend and the children are reportedly safe.
Marcin and Angelika Klis, 42 and 40, were waiting for their children outside the concert.
The Polish couple had two daughters, Alex and Patricia. The 20-year-old Alex couldn't get a hold of them after the blast went off, so she posted on Facebook asking for help in finding them.
According to the Telegraph, the Polish foreign minister confirmed they were two of the people killed in the blast.
The family has not yet commented on the news.
Chloe Rutherford, 17, and Liam Curry, 19.
The Independent reports Rutherford and Curry were a couple who had gone to the concert together. Their families said in a statement that they, "wanted to be together forever, and now they are."
They added in a statement to the Manchester Police, "They were perfect in every way for each other and were meant to be. They were beautiful inside and out to ourselves and our families, and they were inseparable."
Elaine McIver, 43, an off-duty detective for the Manchester police.
McIver had been an officer for the Manchester police for 20 years. She was at the concert with her partner, Paul, and her two children. The Independent reports that Paul is in critical condition and the children are also injured.
Her family said in a statement,
Elaine was a much loved daughter, sister, Auntie, friend and colleague, the best we could ever have wished for. She was everyone's friend, thoughtful beyond belief with an effervescent and outgoing personality.
Eilidh MacLeod, 14
MacLeod had traveled to Manchester with her friend, Laura MacIntyre, from the Isle of Barra to see the concert. MacIntyre was seriously injured and is being treated in a hospital.
MacLeod's family said in a statement,
Eilidh was vivacious and full of fun. She loved all music whether it was listening to Ariana or playing the bagpipes with her pipe band.
Courtney Boyle, 19, and Philip Tron, 32
Boyle was a student at Leeds Beckett University, and Tron was her stepfather who took her to the concert.
Her mother said in a statement,
My stunning amazing beautiful daughter you were my rock you made me so proud with all you had achieved. My gorgeous crazy Philip, you made my world a happy place, and now you are both my angels flying high in the sky.
Wendy Fawell, 50
Fawell had taken her daughter, Charlotte, to the concert, the Independent reports.
When she was still missing, a vigil was held for her in her hometown of Otley where people gathered and hoped for good news. But a friend on Fawell's, Debbie McDowell, later confirmed her death on Facebook, saying,
A beautiful lady who I will have treasured memories of. Nite god bless sweetheart. Love you to the moon and back.
Before her death was confirmed, Fawell's son, Adam, thanked James Corden for the tribute he made to the victims. He said,
Fantastic words said on the late late show about Manchester disaster. My mother is still missing after the explosion. Be strong! They will be found and come home safe!
There are still missing concertgoers who have yet to be reunited with their families. You can help by retweeting their information to keep their faces circulated (but first confirm the info is correct), as well as contacting the emergency numbers provided by the Manchester police if you believe you have seen any of the victims.
Our hearts and thoughts are with the families of the victims, as well as all of the people affected by this attack.
Citations: Ariana Grande Attack (NY Times)