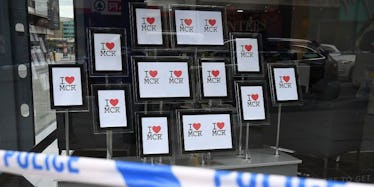 Here's How You Can Donate To The Victims Of The Manchester Attack
Getty Images
Manchester was rocked by a devastating terror attack at an Ariana Grande concert that left at least 22 dead and dozens injured on Monday night.
Children were among those impacted by this senseless act of violence.
This was the deadliest terror attack in the United Kingdom since 2005.
ISIS has claimed responsibility, and police have arrested a 23-year-old man in relation to the incident.
In the wake of such tragedies, it can often feel that nothing can be done. But there are ways we can help.
The Manchester Evening news started a fundraiser for the victims and their families.
Their goal is to raise £250,000 (roughly $325,000), and they've already raised around £230,000 as of Tuesday morning.
Click here if you want to donate.
Many people have left comments on the crowdfunding page, expressing solidarity with Manchester, the victims and their families.
One woman said, "Manchester will bounce back. It has before. Hate won't win. Love to all those involved and still looking for loved ones."
Expressing great pride in his hometown, another man said, "Proud to be a Manc, nothing and no-one will ever divide us, we stand together against terrorism."
Manchester Evening News also chimed in, and said, "Thank you so much to everyone who has donated so far. We are overwhelmed by your generosity."
Beyond donating money, people have already been very generous and helped in numerous other ways.
So many people donated blood, for example, it was announced no more was needed.
But anyone who wants to donate is still encouraged to do so. See the tweet below for more information.
If you aren't able to donate or give blood, there are a number of other ways you can help.
For more information on what you can do to assist the victims of the Manchester bombing beyond donating money or blood, click here.