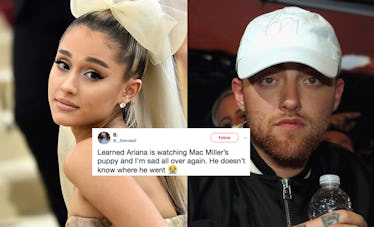 This Video Of Ariana Grande Cuddling With Mac Miller's Dog After His Death Is Beautiful
Jason Kempin/Dale Berman/Getty Images/Twitter
Ariana Grande seems to be in better spirits after taking some time to herself following Mac Miller's death on Sept. 7. The singer and rapper dated for two years before breaking up earlier this year, but they had met each other years before that when they collaborated on Grande's song "The Way." Even after their breakup, Grande maintained that Miller was still one of her best friends, so there was always a lot of love between them. So did Ariana Grande adopt Mac Miller's dog? Her latest Instagram post raises the question.
Grande posted a video of her cuddling with a very excellent doggo to her Instagram on Sept. 24. She captioned the post "All the kisses. Happy fall," and according to Entertainment Tonight, it's the same pup Miller adopted in January 2017. The little pal's name is Myron, and while Myron was apparently living with Miller, Grande considered him to be her dog as well, according to Grande's mother. Now, it looks like Grande (who has six dogs of her own already) has either taken Myron into her and Pete Davidson's home, or she's just spending time with him while they both mourn the loss of Miller.
Grande's mother, Joan Grande, once referred to Myron as one of her daughter's "babies," so it's possible that Grande brought Myron home with her following Miller's death. In a tweet on Aug. 26, Joan said, "#NationalDogDay to my chocolate labradoodle children.. I love you all... Don Vito Corleone, Sirius Black, Ophelia.. and my newest babies: Francis Albert Sinatra and Madonna Luisa Veronica ... and all my love to A's babies Toulouse, Coco, Laf, Strauss, Pignoli, Cinnamon & Myron."
Here's the video of Grande cuddling with Myron.
The Instagram account for Wylder's Holistic Pet Center in Los Angeles posted a photo of Mac Miller on the day he adopted baby Myron back in January 2017.
The post said, "Axel is the last of the pittie mixes to be adopted!! We are so happy for him and we are pretty sure his Daddy will give him a great life. Thanks @larryfisherman for adopting!!!" Grande and Miller were still dating when he adopted Myron, so I'm sure Grande spent a lot of time with him and loves him a bunch. It seems right for her to take him in, if that's what she's decided to do.
Despite their breakup, Grande and Miller had a lot of love for each other. Shortly after Miller died on Sept. 7, Grande posted several touching tributes to her ex.
She posted a sweet video of them hanging out earlier in their relationship with a moving caption.
"I adored you from the day i met you when i was nineteen and i always will," she said. The post continued,
I can't believe you aren't here anymore. i really can't wrap my head around it. we talked about this. so many times. i'm so mad, i'm so sad i don't know what to do. you were my dearest friend. for so long. above anything else. i'm so sorry i couldn't fix or take your pain away. i really wanted to. the kindest, sweetest soul with demons he never deserved. i hope you're okay now. rest.
In the video, Miller is wearing a sweatshirt that says, "Everything will be ok."
On Saturday, Sept. 22, Grande tweeted the same line.
Fans are in their feelings about the idea of Grande taking care of Miller's dog.
Grande has been seen walking her dog, Toulouse, and Myron out in New York City this week, so if you'll excuse me, I'm going to go sob into my pillow.