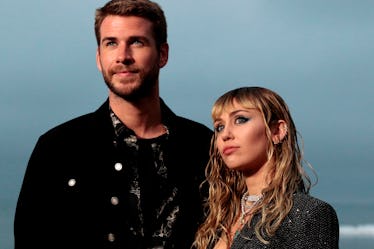 10 Celebrity Couples Who Got Ink-redible Matching Tats
If seeing the "Offset" tattoo on Cardi B's thigh makes you next-level nervous, welcome to the club. Getting a tattoo honoring someone who may or may not be a permanent fixture in your life forever is a big deal — especially when it's personalized, and when you and bae decide to match. It's risky because if you break up, you're both left with permanent skin art that's half an ode to someone you'd probably rather just forget. And tattoo removal? It hurts. If you and your partner are on the fence about getting inked together, these celebrity couples with matching tattoos remind us that the fool-proof tats are subtle, ambiguous, or reflective of something bigger than your current relationship.
"When a couple gets the same tattoo, or even when an individual gets a tattoo that is a marker of the relationship, they're essentially saying 'This is an important relationship for me,'" Viren Swami, a professor at Anglia Ruskin University who studies the psychology around getting tattoos, told The Cut. "'This is an important, meaningful relationship, and I'd like to symbolize it in a way that involves permanence and involves pain.'"
Some of the tattoos these celebrity duos have are ultra-specific. But none of the following tats are the type that would be difficult to cover up or breathe new life into in the event of a breakup. Here are 10 celebrity couples (including former couples) with matching tattoos that will leave you ink-spired to take the plunge and get tatted with your significant other.