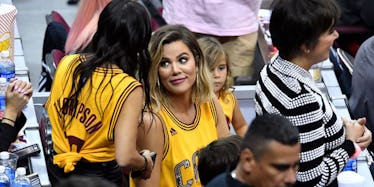 An Official Timeline Of Khloe Kardashian's Love Life Before She Met Tristan Thompson
Jason Miller/Getty Images
We are loving loving Khloé Kardashian and her beau Tristan Thompson.
Out of all the boys Khloé has brought around, this guy and his special suede shoes he recently wore to her surprise birthday party are doing it the most for me.
It's been a journey to get to the 26-year-old Jamaican basketball player, fraught with one messy divorce and a couple other bumps.
French bumps... French bumps who are also a state... like Montana, for example...
ANYWAY.
Here is a complete history of Khloé's past flings and serious relationships.
Rashad McCants, 2009
Nope, I don't remember him either.
Apparently, the two dated around the time Kardashian was filming Kourtney and Khloé Take Miami.
After they called things off, McCants reportedly blamed their relationship for ending his basketball career, according to Sports Illustrated. Hmm... I don't know. Is that how being a professional athlete works?
Derrick Ward, 2009
Plot twist: This guy is a football player. Kardashian and Ward shared a hot minute together when he played for the Tampa Bay Buccaneers in 2009.
Like, a very hot minute. So hot we almost didn't even catch it.
Lamar Odom, 2009-2013ish
Ah, Lammy.
Kardashian and Odom had a whirlwind romance, and got hitched just one month after they met. KUWTK fans watched as Khloé seemed to find the love of her life in the Lakers basketball player.
Alas, the duo infamously split in 2013 after Odom began struggling with addiction and allegations swirled that he cheated during their relationship.
Though their divorce was put on hold in 2015 when Odom overdosed, it was officially finalized in 2016 after his recovery.
Matt Kemp, 2013
Rounding third base (GET IT?!) and completing the athlete trifecta is professional baseball player Matt Kemp.
Shortly after filing for divorce from Odom, Kardashian and Kemp hit up a bunch of concerts together, alerting fans that she was seriously done with her marriage.
French Montana, 2013-2014
You guys remember French. He was a super regular on KUWTK and one of the longer, more public partners Kardashian had after her marriage.
She later said on Kourtney & Khloé Take The Hamptons, "I jumped into something because I was just, like, lonely and destructive."
Rick Fox, 2015 (barely)
Hm, hard to say if this even happened or if it was just a figment of our imaginations.
One time in 2015, retired NBA player Fox and the reality TV star were spotted at the Mexican restaurant Casa Vega in Los Angeles, and a source told Us Weekly that "it looked to be a fun date."
Sure. We bet it was.
James Harden, 2015-2016
Harden met Kardashian at Kanye West's birthday party in 2015, and the two seemed to have a pretty happy, healthy relationship. In fact, Harden was even there for Odom's overdose and helped support Khloé during his hospitalization.
Understandably, it might have put a strain on their romance life, and the two split shortly after that.
Trey Songz, 2016 MAYBE
I don't know. Does one Dave & Buster's birthday party together a relationship make?
Songz attended Kardashian's 32 birthday party, which was featured on KUWTK. At the time, the show focused on Rob Kardashian and Blac Chyna, and not Kardashian and Songz, so we understand if you missed this one too.
Annnnnnd Tristan, 2016-present
Introduced by Khloé's bestie Malika, Kardashian and Thompson seem to be having an amazing time together. Even momager Kris Jenner can admit a good thing when she sees it, telling Us Weekly, "They are really cute. She's having a good time. He seems like a really nice guy."
Recently, Kardashian displayed her love by making Thompson kidney. Like, to eat:
It's been a wild ride of athletes and rappers, but we know Ko-Ko's journey will lead her to true love.
It has too! We're all in love with the Ko-Ko!