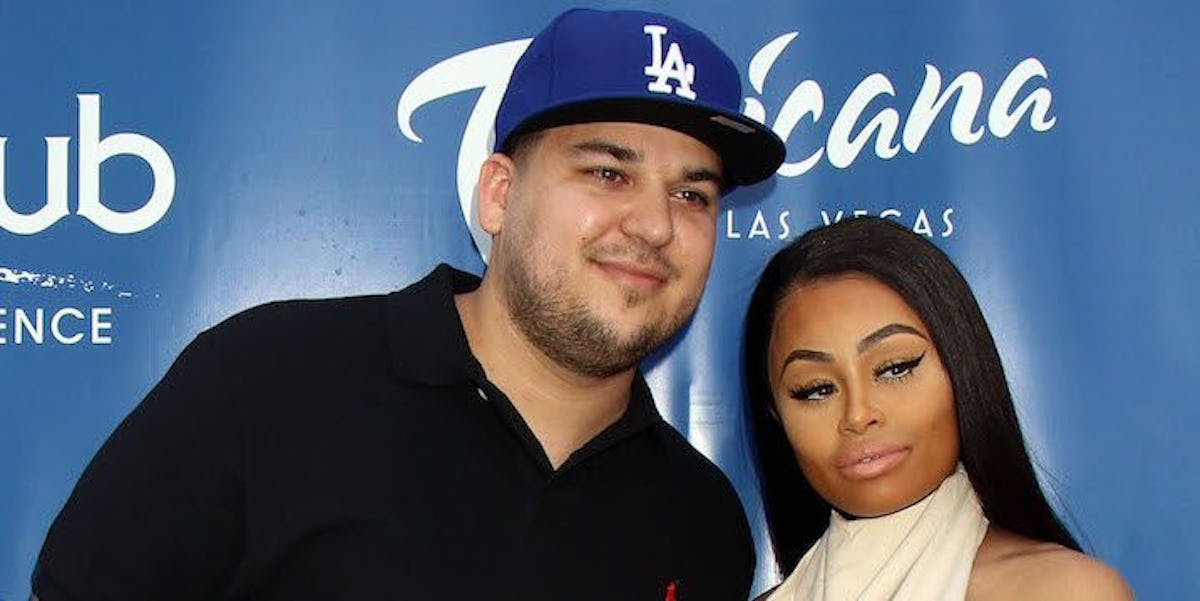 Making Sense Of What's Going On With Rob And Chyna On Their 1-Year Anniversary
REX/Shutterstock
In a year full of celebrity insanity, leave it to the Kardashian Kollective to somehow produce what has consistently been the most insane celebrity relationship in recent memory.
If you found keeping up with the Kardashians to be difficult before last year, then keeping up with Rob Kardashian and Blac Chyna's roller coaster romance was almost impossible.
One week, they're happy together, and the next, they're broken up and in some savage social media war. It's honestly anyone's guess if they're still together or broken up right now... I feel like Kris Jenner wakes up each morning, flips a coin and then calls Rob and Blac to tell them if they're going to be a happy couple or battling exes that day.
But believe it or not, the two reality stars have actually made it a whole year together, albeit the most confusing year ever.
To celebrate the anniversary that probably nobody thought would happen, let's break down the whole timeline of their relationship so we can see just how insane it was.
January 2016: The Dating Begins
Romance rumors between Rob and Chyna first began back in late January of 2016, when Rob started popping up in Chyna's Instagram photos.
People immediately reacted to the unexpected, quasi-incestuous pairing by pointing out that Blac Chyna's ex, Tyga, was currently dating Rob's sister Kylie Jenner.
April 2016: Fast Fiancés
After just over two months of dating, Rob and Chyna revealed they were engaged one year ago today, on April 5, 2016. Chyna was seen flaunting a massive, 7-carat diamond ring when she and Rob went out to celebrate.
May 2016: Baby On Board
A month after getting engaged, Blac Chyna announced she was pregnant. The baby would be her second child; she had her first son, King Cairo, with Tyga.
June 2016: Taking It To TV
What's a Kardashian to do after announcing an engagement and pregnancy? Make a reality show, of course!
At the start of June, Kardashian and Chyna announced they'd be documenting their relationship and Chyna's pregnancy for an E! miniseries called "Rob & Chyna."
July 2016: The First Breakup Rumors
After half a year of supposed bliss, we were finally hit with the first of what would become several bizarre social media moves that seemed to suggest contention between Rob and Blac.
In July, Rob deleted all of his photos with Blac from his Instagram and unfollowed her for a bit, but despite a reported fight, the two remained together.
September 2016: Major Family Drama
There'd always been some awkwardness between the rest of the Kardashian family and Rob and Chyna's relationship, and that tension came to a head at the end of September when Rob publicly put his sisters on blast on Twitter.
When Rob thought his sisters didn't invite Chyna to the baby shower they threw for him, he went off on Twitter and even posted Kylie Jenner's phone number for the world to see.
Khloé Kardashian later explained that they had thrown two baby showers, and one was for men only. She went on to say that Chyna was aware of the dual showers, but Rob had obviously misinterpreted what was going on.
November 2016: Welcome Baby Dream
Blac Chyna gave birth to her and Rob Kardashian's daughter, Dream Kardashian, on November 10.
December 2016: Instagram Hack And Breakup
The most epic part of the Rob and Chyna saga came just one month after the couple welcomed their daughter, Dream. In mid-December, a hacker began posting screenshots of text messages to Blac Chyna's Instagram account, alleging that they were sent by Chyna. The alleged texts said that Chyna was using Rob for his fame and cheating on him.
Shortly after the hack, Rob posted a video saying that Chyna had taken Dream and left their home.
Just days later, the couple confirmed they had gotten back together after the dramatic breakup and seemed to imply that Rob was somehow involved in the Instagram hack.
February 2017: The Engagement Is Called Off
A couple of days after Valentine's Day, it was revealed that Rob and Chyna had officially called it quits. Though they'd broken up several times before, this time felt final, as the couple had also scrapped their wedding plans and broken their engagement.
March 2017: Tense Exes
After the big breakup, there were talks that Rob and Chyna were going to enter into a nasty custody battle over Dream, with reports that Chyna was seeking full custody with Rob only having visitation rights, and Rob wanting to share custody. Despite contentions, Chyna wished Rob a happy birthday and attended his birthday party.
April 2017: It's Over... Maybe?
That brings us up to today. One year after Rob first proposed to Chyna, it sounds like the relationship is officially over, but you can never be too sure with these two.
E! News is reporting that Chyna returned her engagement ring to Rob and the wedding is off. But the couple also reunited on Snapchat just a couple days ago and looked super happy together.
With the insane history of breakups and make-ups these two have, I would not be shocked if they just straight-up eloped tomorrow.