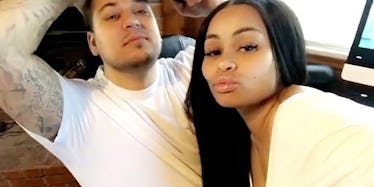 Blac Chyna Reunited With Rob Kardashian On Snapchat And They Actually Look Happy
Snapchat
Are Rob Kardashian and Blac Chyna back on good terms? It sure seems like it.
Despite being engaged and having a child together, the on-and-off couple continues to flip-flop between keeping the peace and hating each other's guts.
Not too long ago, Blac Chyna was seen hanging out with a mystery man before and after the Super Bowl. People began speculating her relationship with Rob might be toast after all.
Following the mystery man sightings, Rob and Chyna were said to have called off their engagement before entering a heated custody battle for baby Dream.
Now, it seems like all of the drama is finally behind them.
On April 1, Blac Chyna shared Snapchat videos of her sitting on Rob's lap as they listened to music such as Kendrick Lamar's "Humble" and Juicy J's "Ballin" featuring Kanye West.
Rob and Chyna took to Snapchat over the weekend to prove they might actually be OK after all.
At one point, Blac Chyna asks for a kiss and Rob gladly delivers.
Could these two be working on their relationship or did we just hop into a time machine and go back five months?!
It's hard to tell, but it looks like they want to make things work!
Further proving Rob and Chyna could be pushing all of the drama aside, Blac Chyna recently spoke to reporters for Cosmopolitan South Africa, saying,
I feel like every person who's in a long-term relationship or who is committed to their person goes through ups and downs. Everything isn't always going to be peaches and cream. If it is, then it's fake. I'm in it for the long haul, so I feel like my advice [for anyone in a similar situation] is therapy, know each other's family, calling each other's moms.
In other words, she's totally aware they've been a hot mess for the last few months, but they're confident they can settle their differences and accomplish the goals they have together.
Maybe they really are back together... Either that or this is just one really good April Fool's joke!
Citations: Rob Kardashian Reunites With Blac Chyna and Gives Her a Kiss in Snapchat Videos (Us Magazine)