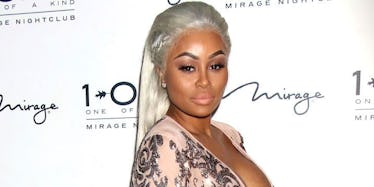 Blac Chyna Was Spotted Without Engagement Ring At Lunch Date With Mystery Man
REX/Shutterstock
So, what's going on between Blac Chyna and Rob Kardashian?
The new man in her life might know! Blac Chyna was seen spending Super Bowl Sunday with an unidentified mystery man at Estrella's MA Theater in Los Angeles on February 5.
As the New England Patriots and the Atlanta Falcons squared off for the Vince Lombardi trophy, the 28-year-old star was spotted getting close to a man who WASN'T fiancé Rob Kardashian.
A source spoke to Us Weekly, revealing the mystery man and Chyna were so close to each other on Super Bowl Sunday they "looked like a couple."
The same source then said Chyna is "still with Rob" despite the fact they aren't living together anymore.
Rumors began swirling that Chyna may be on the brink of leaving Rob for someone else... There just wasn't enough proof to support the claim.
That was until now, of course!
Blac Chyna has been spotted yet again with the same guy and this time, she wasn't wearing her engagement ring. If that's not the number one way to dismiss your spouse-to-be, I'm not sure what is.
The two were photographed dining at a Japanese restaurant in West Hollywood. Chyna appeared to be keeping a low profile as she donned a black beanie and Adidas workout clothes.
On Friday, Blac Chyna's new mystery guy peered directly into a paparazzo's camera as if to say, "Rob, what's good?!"
To top it all off, Chyna reportedly rolled up in her purple Lamborghini generously gifted to her by Rob Kardashian. Ouch!
As of now, Rob and Chyna seem to be experiencing trouble in paradise.
However, it is still unclear whether or not Chyna really is dating someone else.
The couple, who welcomed their first child Dream Kardashian in November, have been on-and-off since getting engaged in April 2016.
Citations: Blac Chyna Spotted Without Engagement Ring on Date With Mystery Man She Also Stepped Out With on Super Bowl Sunday (Us Weekly)