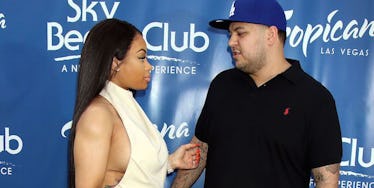 Blac Chyna Fuels Rob K Breakup Rumors After Being Spotted With Another Man
REX/Shutterstock
For the love of Christ, this freaking relationship needs to end already.
You ready for more Blac Chyna/Rob drama? No? Too bad. There is more news coming from this never-ending suck-train of despair, so buckle up.
According to a report by Us Weekly, Blac Chyna was spotted getting all cozy with some unknown dude on Super Bowl Sunday at Estrella's MA Theater in Los Angeles.
All we know about the guy is he was wearing a Patriots beanie, so he is clearly a fahkin' loser, and the two of them were acting super couple-y all night.
During the evening, the potential couple were spotted sitting close to each other. Someone did reportedly hear Blac Chyna say she and Rob were still together, just not living in the same house.
So there you have it. Blac Chyna and Rob Kardashian aren't living together and Chyna is dating other people but the two could potentially still b-- JUST END IT ALREADY. WHY WON'T YOU LET THIS THING DIE?!?!
Are you guys super religious? Is that why you aren't taking this failed coupling off whatever dumb ventilator it's currently on? Because you're aggressively pro-life in every circumstance?!?!
Rob and Chyna have had problems in their relationship since the day they started going out last year.
Granted, she did improve his life. He clearly dropped a lot of weight, cleaned up his act a bunch and is no longer the hermit he once was.
She even got him to a point where he was OK having his own reality show with Chyna (though I would argue that probably wasn't the best move).
But that's all the positive she did. Remember when she cleared out his house around Christmas, taking Dream and King Cairo with her in the process?
So for the love of God, please put a nail in this dumb dumb dumb coffin you guys live in.
Citations: Blac Chyna Spotted Getting Close to Another Man — Who Wasn't Rob Kardashian (Us Weekly)