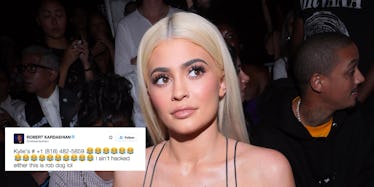 Rob Kardashian Apparently Tweeted Out 'Kylie Jenner's' Phone Number
REX/Shutterstock
If you've had dreams of texting Kylie Jenner at all hours of the day and night, you might be in luck.
It appears that Rob Kardashian may have actually leaked Kylie's number by tweeting it out to his 6 million followers -- and no, I am NOT joking.
During the heated presidential debate during Hillary Clinton and Donald Trump, 29-year-old Rob Kardashian actually tweeted out a phone number with an 818 area code.
The first tweet read "Kylie's #" followed by a barrage of crying face emojis. Rob then clarified that he wasn't hacked and that he really did tweet out Kylie Jenner's actual phone number.
Here's the tweet. You might actually stand a chance with Kylie -- and it's all thanks to Rob doing crazy Rob things.
Rob then proceeded to tweet the same phone number out again.
As expected, plenty of curious people called and texted the phone number to see if it would actually work.
People began asking for Kylie's credit card information since Rob was clearly being so generous at the time.
After a speedy investigation, it turns out the phone number actually belongs to some dude named Jay Aguilar, according to Facebook.
Regardless, people still bought into it.
Damn it, Rob. You just fooled the entire world, didn't you?
NICE TRY.
What was the sole purpose of tweeting out "Kylie's number," anyway?!
I'm just going to guess Rob Kardashian was performing a global pulse check on the entire world during the chaotic presidential debates.
Either that or he really hates some random dude named Jay Aguilar.
Hey, does anyone have Kim Kardashian's phone number by any chance?!
What about Kendall Jenner?
I'm sure we'll find out what led Rob Kardashian to leak "Kylie's" number, but until then I'm just going to guess he wanted to see how many people were staring at Twitter versus watching the debate!