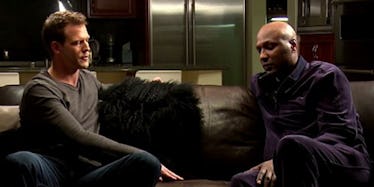 Lamar Odom Opens Up About What Led To His 2015 Overdose
The Doctors
After a full year, we finally have more information on what led to Lamar Odom's near-fatal overdose in 2015.
The former NBA champion opened up in a new tell-all interview on "The Doctors" with Dr. Travis Stork on Friday. Shortly after finalizing his divorce from Khloé Kardashian, Odom checked into a rehab facility in San Diego.
In the midst of it all, Lamar Odom sat down with Dr. Stork to talk about the 37-year-old's overdose after being found unconscious at a brothel in Nevada in October of last year.
A short teaser was recently released in which Dr. Stork asks Odom,
There are reports that you've still been using substances — is that true or false?
Odom then sits in complete silence before the clip ends, meaning we'd have to wait for the full episode to air. Now, an extended clip of the in-depth interview has surfaced -- and Lamar actually speaks this time.
During the 5-minute segment, Lamar talks about his time at Dennis Hof's Love Ranch in Nevada where he overdosed, saying,
Being in that damn brothel and thinking I was going to just rest a little bit. I wasn't in a good place mentally, especially mentally, before that incident happened.
At that moment, he then admitted that ongoing marriage issues with Khloé had put him in a "dark place."
His eyes got watery as he admitted,
Me and my wife at the time were going through some things. I was in a dark place.
Despite the problems in their relationship, Lamar goes on to reveal that it was Khloé who was by his side when he finally regained consciousness at the hospital. He continued,
I didn't know until Khloé [Kardashian] had told me that I was in a coma. I couldn't even speak at the time. I couldn't talk. Nothing would come out when I would open my mouth, so I was scared.
The former NBA star added that the traumatic experience "happened for a reason" and that he is using his second chance at life to tell his story.
Finally, the new clip ends as Dr. Travis Stork asks Odom again if he is still abusing substances. At that point, the camera zooms in on Odom's face who looks incredibly nervous just before the footage stops.
Here's the new clip of Lamar Odom sitting down for a tell-all interview with Dr. Travis Stork on his show "The Doctors."
So, when do we get the full episode?
According to DailyMail.com, Dr. Travis Stork voiced that the full episode will not be aired until after Odom's treatment at the San Diego-based rehab center is complete.
Citations: 'I was in a dark place': Lamar Odom gives first sit-down interview about his near-fatal overdose (DailyMail.com)