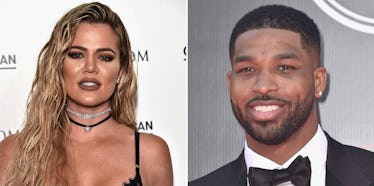 Khloé K And Tristan Thompson Threw A Fourth Of July Banger And It Looks Epic – VIDEO
Alberto E. Rodriguez/Getty Images
Khloé Kardashian and Tristan Thompson hosted a big Fourth of July party at Khloé's house yesterday, and the videos from it prove the couple went all out for this event.
Between this party and the surprise birthday party Tristan threw for Khloé last month, this couple clearly has a love for hosting epic parties.
And of course, it wouldn't be a Kardashian party if the entire thing wasn't properly documented on social media.
Khloé and Tristan started off their day with a workout followed by a post-workout selfie on Snapchat.
In the first video on Khloé's story, Tristan says, "After every good workout, you got to get stretched right." Khloé (who was covering her face in the video) said, "Snap the workout, though!" Then Tristan says, "Well, sh*t, I was in the workout, man." LOL.
The next post was that post-workout selfie I mentioned.
I also workout in the same garage where I keep my very expensive cars that I totally have. Obviously.
Then they cooled off by sliding down one of the huge inflatable waterslides they had most likely booked specifically for the party. If this slide is part of Khloé's daily life, that would be too extra. (But I also wouldn't be that surprised...)
We are then blessed by the presence of Mama Kris.
Tristan snapped a vid of Khloé and Kris Jenner wishing everyone watching a happy Fourth of July.
This is so awkward, and I love it so much.
Kardashian also took us on a tour of the dessert table, which I am very grateful for. Just look at all that gold.
Kris Jenner also had her own table reserved at the party.
The table had a tag on it that said, "Reserved for Kris F*cking Jenner," which I assume is the tag Jenner requires to be put on everything she's keeping on hold.
Table at a restaurant? Reserved for Kris F*cking Jenner. Seat at a Kanye concert? Reserved for Kris F*cking Jenner. Front row seat at my wedding? Reserved for Kris F*cking Jenner.
LMAO, just kidding. I'm never getting married.
Oh, and Rob and Dream Kardashian were there, too! Without Blac Chyna, though. Rob posted a bunch of really cute pictures of him and Dream hanging out in the pool at Khloé's house on Instagram.
In one of the pics, Dream is lounging on the unicorn float literally everyone has now. Even my office had one last year. We didn't even have a pool. It just sat on the floor.
Kim Kardashian was there too, of course.
She posted a video of all of the floaties in the pool, which included the booty float from her Kimoji line.
Ah, rich people parties. They look like so much fun. I could definitely afford to go.