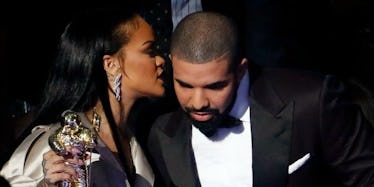 Drake Got A Matching Tattoo Because His Love For Rihanna Is Real
REUTERS
Just when you thought Drake and Rihanna couldn't get anymore official, they go and get matching tattoos.
It's only a permanent display of love -- no big deal.
Rihanna first revealed her shark ink in a photo shared on Instagram by tattoo parlor Bang Bang NYC.
Here it is:
Where did the inspiration for that tat come from, I hear you ask.
Well, does this stuffed animal look familiar to you?
It's believed Drake bought RiRi the shark toy as a gift while on a date at an aquarium last month.
Under the Instagram photo, Drake wrote,
This a night for us all to be thankful for what you have done for us! You have affected so many of our lives in the best way possible. Tonight we celebrate you! @badgalriri
Loads of people responded in the comments with the engagement ring emoji.
So much love. But he has more to give.
A recent photo of Drake performing revealed he's got a matching tattoo.
Take a good look at the rapper's right arm.
DRAKE HAS THE SHARK TATTOO FUUCCKKKKK pic.twitter.com/tmk8rXm42q — bethany bolton (@bethanyboltonn) September 5, 2016
IT'S A SHARK, AKA A SYMBOL OF HIS ETERNAL LOVE FOR RIRI.
IF YOU'RE READING THIS, IT'S TOO LATE CAUSE DRAKE IS GONNA TAKE CARE OF RIRI (and this tat) FOR THE REST OF HIS DAYS.