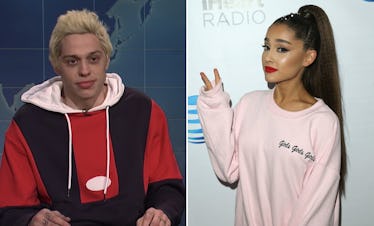 Ariana Grande Covered Up Her Matching Tattoo With Pete Davidson In A Pretty Creative Way
Youtube / Jesse Grant/Getty Images Entertainment/Getty Images
For all of you who are hoping that Ariana Grande and Pete Davidson will reunite and get back together once more, things are starting to look pretty bleak. (Sorry.) They've both subtly addressed their breakup since the news that they called off their engagement, but now it looks as though Ariana Grande is taking yet another step towards moving on from Davidson. Yep, Ariana Grande covered her matching tattoo with Pete Davidson, because who the heck wants to walk around with a permanent reminder of an ex-fiancé on their hand?
On Tuesday, Oct. 30, Grande took to her Instagram story to inadvertently (or maybe not inadvertently, who knows?) show off the "reborn" tattoo that she got with Davidson — only now, it's a completely different tat. Instead of text, it looks as though the tattoo is now a design of a leaf or vine of some sort, and, from the video, looks to be a pretty obvious change. She showed off the updated ink while clinking glasses with a group of friends, and captioned the video, tagging her crew and writing,
I have no words to describe how much I love and am eternally grateful for these human beings who constantly help me turn lemons into lemonade and literally heal me and put me back together
Check out the new design for yourself:
If you don't remember what it looked like before, then let me give you a refresher:
Mhm.
And, in case you feel like checking out what Davidson's matching tat looked like, you can check that out, too:
The pair both got the matching tattoo on their thumbs back in June as a celebration of their engagement, according to People, and showed them off in a now-deleted post on Instagram, alongside the caption, "u know what you'd dream it be like? it's better than that."
This isn't the first tattoo to have been covered up, either. During NBC's Wicked special, it appeared that Grande covered up her "Pete" tattoo that's on her left ring finger with a bandage. Perhaps it was just for the purpose of the show, but I have a sinking feeling that sooner or later, the namesake of her ex will be transformed into something completely unrelated, too.
But Grande isn't the only person starting to cover up her matching tattoos. Davidson told fans that he's been covering up his tattoos as well.
"Um, I've been covering a bunch of tattoos, that's fun," Davidson reportedly told the audience while co-hosting the comedy show Judd & Pete for America, on Saturday, Oct. 20.
"I'm f*cking 0 for 2 in the tattoo [department]. Yeah, I'm afraid to get my mom tattooed on me, that's how bad it is," he reportedly said.
He continued, reportedly saying,
So, obviously you know I, we [Ariana and I] broke up or whatever but when me and her first got engaged we got tattoos. And it was like in a magazine like, "Was Pete Davidson stupid?" And 93% of it said yes... So my boy, he was like, "Don't listen to that sh*t man. They're literally f*cking haters." And I'm like, "yeah, f*ck that. I'm not stupid." And the other day we were in my kitchen and he was like, "Yo bro. Turns out you were stupid."
Slightly funny, but also slightly depressing.
So, look. Is this their way of saying that they will never, ever, ever get back together? I mean, nothing is 100% certain. But it clearly doesn't look like the pair will be kissing and making up — or getting any more matching tattoos together — anytime soon.
While that sounds like kind of a bummer, at least we can look forward to seeing what the rest of their tattoos will be covered up to look like!