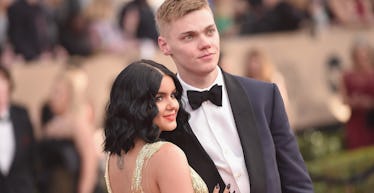 These Celebrity Couple Matching Tattoos Will Make You Want To Get Inked With Your SO
Alberto E. Rodriguez/Getty Images
Honey, would you put a bumper sticker on a Bentley?
Kim Kardashian West wouldn't -- and she let us know it when she blessed us with that idiom during a 2009 appearance on The Wendy Williams Show.
But we can't all be Bentleys, Kim, so for those of us that are rocking more of a Toyota bod, tattoos often enhance the picture. Or the relationship.
Dozens of high-profile celebrity couples have followed this line of thinking all the way to the tattoo parlor — immortalizing their love for each other even if their love turns out to be pretty… mortal.
So far, most of these relationships are still intact, so we'll see!
Kylie Jenner And Travis Scott
Kylie Jenner and newest boyfriend Travis Scott recently inked their ankles with matching butterflies – apparently a tribute to Scott's song "Butterfly Effect," which may or may not be about Jenner.
The tats are pretty small and cute, so if worst comes to worst, it's just a butterfly... not a naked portrait of your ex-wife (I'm looking at you, Nas).
Ariel Winter And Levi Meaden
Just last week, 19-year-old Ariel Winter got matching tattoos with her 29-year-old actor boyfriend Levi Meaden of their favorite sandwich, PB & Cheese.
I don't get it either, but good for them.
Beyoncé And Jay-Z
Some of the couples we've talked about may turn out to be short-lived flings, but Beyoncé and Jay-Z? God, I hope they never break up. I know he doesn't treat her right (Lemonade) but a Bey/Jay breakup might just upset the equilibrium of the universe.
Hopefully, their matching ring finger ink that commemorates their Illuminati-ish obsession with the number four will seal them together forever.
Victoria And David Beckham
Victoria and David Beckham will celebrate their 18th wedding anniversary this summer and if they get matching tats to celebrate, it wouldn't be the first time!
For their sixth anniversary, the Beckhams got a matching Hebrew phrase that means, "I am my beloved's and my beloved is mine."
And for their 10th, Posh got her hubby's initials as well as the phrase "together forever eternally" in Hebrew tattooed on her wrists.
Becks has been equally outward in his love for his spouse, inking "Victoria" on his hands next to the number "99," the year they got married. He also got roses to commemorate their 10th wedding anniversary right next to a sultry portrait of his wife.
True love!
Steph And Ayesha Curry
Unlike most matching couples tats, Steph and Ayesha Curry's newest ink isn't about them; it's about something much bigger -- basketball. Specifically, the Golden State Warrior's second NBA championship in three years, which they won earlier this month.
Although we don't know what basketball's first couple got this time, the pair already have matching arrow tats to remind them not to look back or forward, but stay in the moment and have fun. Looks like it's working out!
Billie Joe And Adrienne Armstrong
Green Day frontman Billie Joe Armstrong and wife Adrienne have been married for 23 years which is basically 1,000 years in Hollywood time.
Their relationship seems set in stone so it's only natural that it'd also be set in ink. Billie Joe has four photo booth-style portraits of his wife tatted on his forearm and it's pretty sweet.
Johnny Depp And Winona Ryder (And Wine)
Johnny Depp and Winona Ryder were the heartthrob power couple that dreams were made of back in the early 90s.
They didn't last long , but that didn't stop Depp from getting a banner reading, "Winona Forever" inked on his bicep. He later changed it to read "Wino Forever" which might be the best cover-up I've ever heard of.
BONUS: Bieber And You
Justin Bieber may or may not have matching tattoos with Selena Gomez, Sophie Richie, and his father Jeremy -- depending on who you ask -- but you, too, can be on that list!
The Biebs, forever acting weird on Instagram, posted a pic last week of a large new thigh tat reading "Better at 70" with a message about trying to improve his life. He then posted the tat's stencil, in case "anyone wants to get the Better at 70 tattoo."
All you have to do is take it to the tattoo parlor and poof! Bieber's your BFF.
You can decide for yourself if you want that.