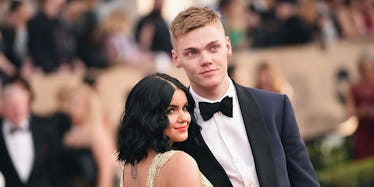 Ariel Winter Got Matching Tattoos With Her Boyfriend, So Things Must Be Serious
Alberto E. Rodriguez/Getty Images
Tattoos or it didn't happen.
From Kylie Jenner and Travis Scott to Ariel Winter and Levi Meaden, matching tats are in for Hollywood lovebirds and we are keeping track.
Winter is no stranger to tattoos, rounding up her grand total to eight pieces including her latest art with Meaden.
The couple took to Snapchat to share their new ink, Ariel sporting a slice of cheese and Meaden rocking a peanut butter jar.
You goes know that ol' classic combo, peanut butter and cheese, right?
Winter also showed off a slinky new snake tattoo slithering up her wrist.
AND a matching red broken heart with another friend.
Entertainment Tonight reports that Ariel has said she only gets a tattoo if it is meaningful for her.
I love getting tattoos. I think it's a super fun way of expressing yourself. I only get tattoos that are really meaningful to me and I love it.
Her additional five tattoos include the following:
1. The date October 3, 2012 represents the date that Winter moved in with her sister and "started a new chapter of life."
2. A spade on her wrist. Ariel claims she loves playing cards and it's her "favorite thing in the world to do."
3. The tiger on her back. She explains, "I've always felt like I am a protector for other people and I've always had these amazing protectors in my life."
4. She has all of her nieces and nephews initials on her rib cage.
5. And last but not least, the quote "Love risks everything and asks for nothing" in Greek.
This makes Ariel at least eight times cooler than me and eight times more badass.
The 19 year-old-actress has caught heat for her lifestyle, moving in with her much-older boyfriend and often posting sexy photos on her social media, but don't think for one second she cares what you think.
She recently posted in a message on Instagram, "Don't ever let anyone stifle who you are and how you express yourself."
Preach.