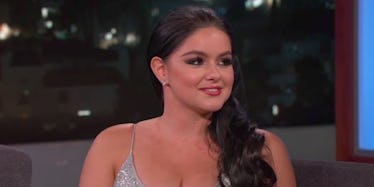 Ariel Winter Gushes Over Boyfriend In Interview With Jimmy Kimmel: 'He's Great'
ABC/YouTube
Ariel Winter is in loooovvvvvvveeeeeeeeee.
The 19-year-old "Modern Family" actress was a guest on "Jimmy Kimmel Live!" on Wednesday night, where she gushed about her boyfriend, Levi Meaden, college and her life on "Modern Family."
Winter, who bought her first house last year, says she lives with her 29-year-old boyfriend and he does most of the cooking because she can't cook at all. Honestly, same. Minus the boyfriend part. I am very hungry.
She told Kimmel,
My boyfriend and I live together, and he cooks. I can't cook at all. He takes care of all that handy stuff, he's great, he does all that. I can bake a pie occasionally. Pumpkin and apple, I baked those two the other day. They were edible.
Ariel Winter and Levi Meaden, a fellow actor, have been together for about six months now. I guess things are pretty serious since they're living together.
And based on their pics together, they do look pretty ~in love~.
"Modern Family" was just renewed for two more seasons yesterday (it originally aired eight years ago). Winter pretty much grew up on the show, so Kimmel asked her how she's treated differently now that she's a little older. She said,
They definitely treat me like an adult now. I mean, I think it's a little weird for them. We started on the show when we were 10 and 11 years old, and we were running around with nerf guns and being crazy and not really doing anything adult-like. And now, that we're, you know, semi-adults, they definitely treat us different.
She's also going to college! Yup, she told Kimmel she has recently been accepted to UCLA and is planning on majoring in political science so she can become a lawyer.
She doesn't want to give up acting, she says, but she does want a backup plan in case she never gets cast in anything ever again.
YOU GET THE EDUCATION, SISTA.
Citations: Ariel Winter Dishes on Living With Boyfriend Levi Meaden: 'He Takes Care of All That Handy Stuff' (Entertainment Tonight)