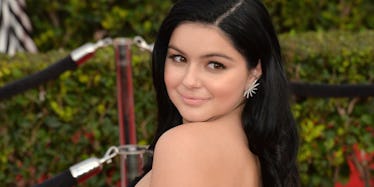 Ariel Winter Claps Back At Haters For Criticizing Her Outfit In Instagram Post
Shutterstock
In case you didn't know this already, Ariel Winter doesn't give a darn heck what you think.
The "Modern Family" star attended a panel and screening promoting the ABC show on May 3. She wore a gold cutout dress and matching gold heels.
Trolls on social media had something to say about her look (because someone forgot to tell them their opinions don't matter). Comments included things like, "Inappropriate considering the dress code," and, "Way over the top." So, Winter took to Instagram on Thursday to clap back.
The caption reads,
Why TF does anyone care that I didn't dress casual like everyone else for the panel? Why do I have to be like everyone else? Why can't people just let other people feel good about themselves and do what they want? WEAR WHATEVER YOU WANT PEOPLE! As long as you feel good about yourself that's what matters. I know I did. Don't ever let anyone stifle who you are and how you express yourself. Rant over :)
You tell 'em, girl.
Ariel Winter has been open about her struggles in the past with body confidence and how she worked to overcome them. During her time as an ambassador for Dove's #SpeakBeautiful campaign, the star told Elite Daily,
It's really important nowadays to empower young women — and young men… to feel really good about themselves, not only their appearance, but to feel good enough to speak about issues that are important to them and to stand up for themselves when necessary.
She also got real about what she thinks of her haters, saying,
For me, now I post a photo and I don't care. If you're going to write something on it, whatever… If somebody doesn't like what I'm doing, you can unfollow me... I like the way I look, I posted it for a purpose. If you don't like the way I look, then I'm sorry.
Couldn't agree with you more, Ariel.
Back to your regularly-scheduled slaying.
Citations: Ariel Winter Calls Out Critics Who Shamed Her Modern Family Dress (Refinery29)