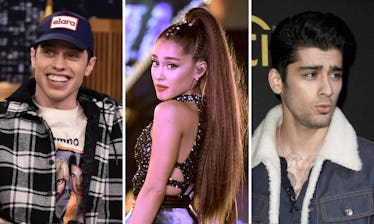 6 Celebs Who Changed Their Tattoos, Since Removal Is A Pain Even When You're Famous
Theo Wargo & Kevin Winter & Frazer Harrison/Getty Images Entertainment/Getty Images
Hey, you. Are you considering getting a tattoo? Have an idea you've been mulling around? Maybe there's something that has spoken to you so strongly, you feel you must get it permanently stamped onto your body. Honestly, I get it. I have a tattoo on my butt. It's too long of a story to get into now, but I will tell you it's of a colorful sprinkled donut and so far, I still love it. I wish the celebrities I'm about to name could say the same. I've gathered at least seven celebrities who changed their tattoos, but I'm sure that number is much, much higher.
Here's the tricky thing about tattoos, they are a permanent reminder of what can sometimes be a temporary feeling. (Real talk: I have to give credit for that bit of wisdom to someone's mom from college, but I can't remember which one. Shout out to moms.) Celebrities aren't immune to mistakes, especially when they're young and full of hope. Below you can read a few stories about love-inspired pieces, images that were chosen on a whim, and straight up dumb decisions. My biggest takeaway? Don't take yourself too seriously.
Please enjoy.
1. Ariana Grande - "REBORN" Tattoo
Ariana Grande famously went and got a bunch of matching or corresponding tattoos with her ex-fiancé, Pete Davidson, during their engagement. One of those included the word "REBORN" on her hand. It looked like this:
But after the announcement of their breakup in mid-October, Grande ingeniously covered the tattoo up by modifying it so it's some sort of vine.
All's well that ends well, I guess!
2. Pete Davidson - Ariana Grande Inspired Bunny Ears
Similarly, Davidson is busy backtracking in a big way on his own tattoos from his engagement to Grande. When the two first started dating, Davidson went and tattooed her iconic bunny mask from her Dangerous Women album on his neck. As of late, it appears he's covered the mask up with a solid black heart.
On Saturday, Oct. 20, Davidson appeared in a comedy show with Judd Apatow called Judd & Pete for America. During that performance, he told the crowd, "Um, I've been covering a bunch of tattoos, so that's fun. I'm f**king 0 for 2 in the tattoo [department]. Yeah, I'm afraid to get my mom tattooed on me, that's how bad it is."
Le sigh.
3. Zayn Malik - Ex-Girlfriend Perrie's Face
To be fair, Zayn Malik has so many tattoos it's easy to miss the specifics. Still, that didn't stop him from covering up the ink of his ex-girlfriend, Perrie Edwards. Malik was actually engaged to Edwards at one time and had a caricature of her on his bicep. Today, fans can catch glimpses of swirls of new ink around the area the cartoon used to be, and Malik is back on with his super beloved girlfriend, Gigi Hadid.
4. Justin Bieber - Ex Selena Gomez's Face
We all know Bieber is currently engaged/maybe married to Hailey Baldwin, but that doesn't erase the Jelena saga of our generation. Bieber tattooed an image of Gomez to his wrist at one point, but admittedly tried to change it by adding shadows and shading. He told GQ in a video interview, "This is my ex-girlfriend, so I tried to cover her face up with some shading, but people still know."
Yeah. We do.
5. Johnny Depp - "Winona Forever"
I feel like I learned about tattoos because of Johnny Depp's Winona Ryder tribute. The two actors dated way back in the day in 1989 when he was 27 years old and she was only 18. Depp was so infatuated with his Edward Scissorhands co-star, he got the words "Winona Forever" stamped on his right bicep.
By 1993, their relationship dissolved and Depp famously changed "Winona Forever" to "Wino forever."
K.
6. Kylie Jenner - "t"
It feels so long ago now, but once upon a time, Kylie Jenner was in a very serious relationship with Tyga. During that time, she got a very small cursive lowercase "t" on her ankle. Today, we all know that relationship came and went and she now has a beautiful daughter with her serious boyfriend, Travis Scott.
No problem. With just the flick of a tattoo artist's wrist, the small "t" became the lowercase letters "la," presumably staging as a nod to Jenner's home base in California.
All's well that ends well or can be changed easily. That's what I always say.
9. Meghan Fox - Marilyn Monroe's Face
Meghan Fox underwent what she described as an "incredibly painful" tattoo removal to erase the face of Marilyn Monroe on her right forearm. In 2012, she told Jay Leno, "I was stubborn and thought that I was going to love it forever, or that it would be like a book of my life, all the things that I loved when I was young. It's not that way at all."
Hey, lesson learned, guys. It's all character building, relatable, and makes these celebrities a little more human. It makes me and my sprinkled donut butt tattoo feel awesome.