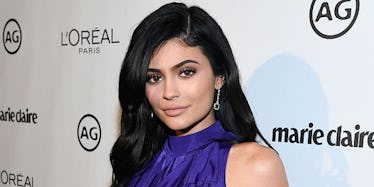 This Tiny Detail On Kylie Jenner's Tattoo May Mean She's Done With Tyga For Good
Matt Winkelmeyer/Getty Images for Marie Claire
Kylie Jenner and Tyga are done for good, guys. And this time, Jenner made the breakup permanent by having her tattoo dedicated to Tyga changed to have a completely different meaning.
Jenner previously got a tiny "T" written in cursive tattooed on her inner left ankle. The "T" obviously stood for Tyga, but now, it's been changed to say "LA" in cursive. Bye forever!
Honestly, I'm impressed by how easily the tat was revised. Tattoos are amazing, people. You should try them sometime.
Tyga might be feeling a little sore about this, considering Jenner already got matching tattoos with her new boyfriend, Travis Scott.
They each got matching butterfly tattoos on the backs of their ankles, even though they've been dating for, like, three minutes. Yeahhhhh, that's got to sting, Tyga. You doing OK, bud?
The meaning behind the butterfly tattoos is rumored to be confirmation that Scott's song, "Butterfly Effect," is about Jenner.
Back in May, Scott posted a picture of Jenner leaving an airplane and captioned it, "BUTTERFLY EFFECT." So... yeah... the song is probably about her.
In the song, Scott says,
Heatin' up, baby, I'm just heatin' up / Need ya love, not a need, it is a must / Feelin' stuck, you know how to keep me up / Icy love, icy like a hockey puck
It's all about feelings for a new woman, and the "butterfly effect" post along with the matching butterfly tattoos all but confirm our suspicions that the song is about the youngest Jenner.
Before you ask, don't worry. Jenner's butterfly tattoo isn't on the same ankle as the ex-Tyga one. The butterfly is on the back of her right ankle, and the newly revised LA tattoo is on the inside of her left.
No matter where it's located, though, I definitely don't think Tyga is OK!!! I don't know. Maybe he is. BUT I WOULDN'T BE.