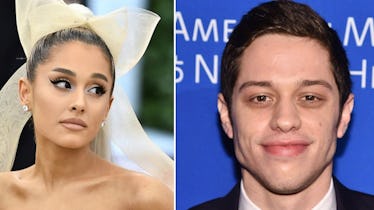 Pete Davidson Just Broke His Silence On His Split From Ariana Grande
THEO WARGO/MICHAEL LOCCISANO/GETTY IMAGES
A week after news first broke about their breakup, one half of Grandavidson has broken their silence about the split. Pete Davidson's comments on his split from Ariana Grande are exactly what you might have expected from the comedian, but they're still heartbreaking nonetheless.
The comments came at Davidson's first public appearance since the split, which took place at the comedy show Judd & Pete for America at the Coronet in West Hollywood on Saturday, Oct. 20. Davidson co-hosted the show with Judd Apatow. Davidson apparently told the crowd, "Well, as you could tell, I don't want to be here. There's a lot going on." Eeeek.
A big part of Davidson's set surrounded the tattoos Davidson had gotten in honor of his 25-year-old ex-fiancée. Fans of the couple know he got bunny ears behind his ear that look similar to the ears Grande wears on her Dangerous Woman album cover. They also have a bunch of matching tattoos: clouds on their fingers, the word "reborn," "mille tendresse" on the back of their necks, and "H2GKMO," which stands for Honest To God, Knock Me Out. According to E! Online, during his set on Saturday night, Davidson told the crowd,
Um, I've been covering a bunch of tattoos, so that's fun. I'm f**king 0 for 2 in the tattoo [department]. Yeah, I'm afraid to get my mom tattooed on me, that's how bad it is.
He also said,
So, obviously you know I, we broke up or whatever but when me and her first got engaged we got tattoos. And it was like in a magazine like, 'Was Pete Davidson stupid?' And 93 percent of it said yes. So my boy, he was like, 'Don't listen to that s**t man. They're literally f**king haters.' And I'm like, yeah, f**k that. I'm not stupid. And the other day we were in my kitchen and he was like, 'Yo bro. Turns out you were stupid.'
It sounds genuinely funny, but seriously, a part of my heart breaks for Davidson. I'm sure the breakup was hard on both him and Grande, and they obviously were in love enough to make it permanent on their bodies in so, so... SO many places.
Later on in the set, Davidson and Apatow were joking with each other about Davidson's current state. Apatow said, "I care more about America than your feelings, I do. I care more about America than Pete's feelings." Davidson replied,
I feel like I am America ... I'm a good guy that just keeps getting kicked in the d**k. You're like, 'Ah, that f**king poor kid. Hope he doesn't kill himself.' That's America.
While Grande herself hasn't confirmed the breakup news, she has taken to social media to give fans a little insight to how she's doing in the days following. Earlier this week, Grande shared two photos to her Instagram Story. One was a vintage photo of Marilyn Monroe drinking from a flask (taken from the 1959 comedy Some Like It Hot), and the other was an image of a woman from a cartoon crying.
I think it's safe to say that the breakup hasn't been easy for either Davidson or Grande, but I'm hoping these two are able to move on and do what's best for each of them.