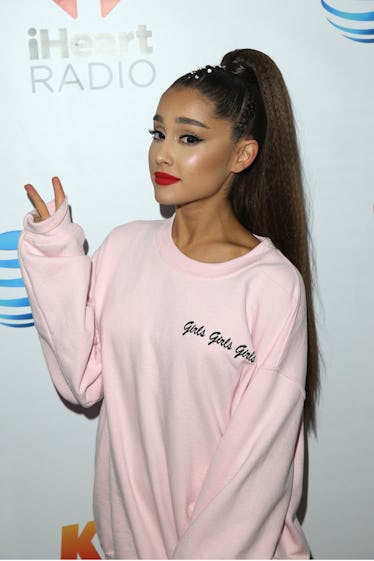 Ariana Grande's Latest Post May Hint At How She's Doing After Her Reported Split From Pete
Jesse Grant/Getty Images Entertainment/Getty Images
Ariana Grande seems to be pushing her way through a lot of stress right now. Between the death of her ex Mac Miller and her very recent reported breakup with Pete Davidson, she's got a lot on her plate at the moment. And the 25-year-old superstar has taken to Instagram to let the world know how she's feeling. Ariana Grande's Instagrams after her reported split from Pete Davidson give a lot of insight into what she's going through right now.
In her Instagram Story, Grande shared two photos that gave fans a clue about how she is currently handling all the weight on her shoulders. In one photo she shared, Marilyn Monroe drinks from a flask. The second photo shows an illustration of a woman crying. So, what can fans surmise from these two photos? Well, for one, it's likely that Grande is experiencing a lot of emotions right now, so the illustration of the crying woman probably hints at that. As for the Marilyn Monroe photo, it's a screenshot from the 1959 comedy Some Like It Hot. I guess that means Grande is dealing with everything in the best way she knows how — with a mix of glamor and humor.
This is one of the photos Grande posted to her Instagram Story:
Grande and Davidson reportedly broke up just this past weekend and news of the split hit the media on Sunday, Oct. 14. Elite Daily reached out to Grande and Davidson's team for comment but did not hear back by the time of publication. As many of you know, the two young stars were engaged to be married and had only been together for about five months. So, this was a whirlwind romance that seems to have taken a turn.
Unfortunately for Grande, the reported breakup comes just a month after her ex Mac Miller passed away. Needless to say, she's dealing with a lot right now.
Whatever she's doing to ease her current struggles, it's clear that she's doing what she can to get by. And that's really all anyone can ever do, right? Even her friend and manager Scooter Braun said as much.
On Sunday, Oct. 14, Braun explained to an audience that Grande had to cancel a charity performance due to some personal issues.
"One of the most amazing things about this organization is that they help people when they're having the worst moments in their life, and they give sympathy and a calm nature to people in need in those moments. And you saw your invite, someone I'm very close to was supposed to come sing for you today, and because of things that she's going through, she couldn't be here today," Braun said. "And while I was frustrated, being the manager, my wife, being who she always is, just looked at me and she goes, 'She needs this time.'"
While there have been reports that Grande and Davidson aren't over for good, it seems as though they needed to put the breaks on their relationship. Maybe it was all moving too fast or maybe they both needed time to process the intense media focus on their relationship. Whatever the case, here's hoping they both get through this time with as much support as possible.