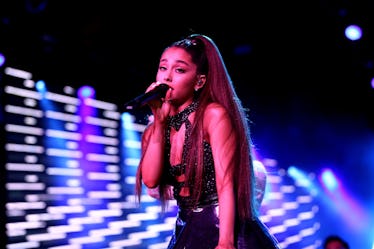 Ariana Grande Apparently Covered Up Her "Pete" Tattoo With A Band-Aid & I Have Questions
Rich Polk/Getty Images Entertainment/Getty Images
I don't know about you but I really enjoyed this past summer, AKA The Summer of Love. I loved watching celeb relationships sprout out of the blue and turn into full-blown romances. Sure, I was a little skeptical about whether or not they'd last. But each day they did gave me a hope that fairytale romances could be reality. But, alas, all good things eventually come to an end and now The Summer of Love has officially transitioned into The Fall of Heartbreak. And the most recent devastating development? Ariana Grande covered up her Pete Davidson tattoo.
OK, let me give you some backstory here. During Ariana Grande and Pete Davidson's relationship of five months, things got pretty serious. In addition to, you know, getting engaged, adopting a pig and moving in together, Cosmopolitan reports they also got 12 tattoos in honor of each other. Twelve!
One of the 12 (I'm still not over it) tattoos, was one that said "Pete" on Grande's ring finger. As I'm sure you can imagine, the placement and the content of this one made it especially sentimental.
And that might be why Grande decided to cover it up with a Band-Aid while she was recording NBC's "Wicked" musical special.
But in a very awkward turn of events, it looks like Ariana just used a Band-Aid to cover up this small memento. TMZ managed to capture an image of Grande performing on stage with a Band-Aid conveniently covering up the sentimental tattoo. You can see the image for yourself here.
Now, obviously, the fact that she had a Band-Aid there doesn't necessarily mean anything. She really could have coincidentally injured herself at that exact spot on her ring finger. I've never been featured in an NBC musical (weird, I know), but I'm going to go ahead and guess that the intense dance practices leave a lot of room for possible injuries.
Then there's the other, more juicy theory that the Band-Aid was missing because Grande was strategically trying to cover up the tattoo which I'm leaning towards because her finger was also notably ring-less. Yep, that's right. Grande's beautiful engagement ring was also missing in the pic, leading us to believe that the rumors that she returned her ring to Davidson but kept their pet pig, might actually be true after all.
Rumors of the split between the two started swirling about this past Sunday (Oct. 14). "It was way too much too soon," a source close to Grande told the TMZ. "It's not shocking to anyone." The source added to the publication that timing could have played a role in the breakup. It just "wasn't the right time for their relationship to take off," according to the source.
So, hey, if it really was just timing, maybe these two love birds will find their way back to each other in the future. If they're happy, it'll obvi take me some time, but I'll eventually be happy too.
Check out the "Best of Elite Daily" stream in the Bustle App for more stories just like this!