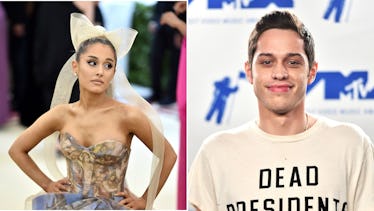 Ariana Grande & Pete Davidson Might Be Moving In Together, So Time To Freak Out
Theo Wargo/Getty Images Entertainment/Getty Images Alberto E. Rodriguez/Getty Images Entertainment/Getty Images
I think it's safe to say that Ariana Grande and Pete Davidson's relationship timeline is the fastest one I have ever witnessed. Not long after reports emerged that the two were dating, the couple reportedly got engaged and shocked literally everyone. And now it looks like Ariana Grande and Pete Davidson might be moving in together — which in retrospect makes sense, but I'm still not over their reported engagement so this news is seriously wild.
I cannot explain all of my feelings about this relationship. I mean, I love me a good whirlwind romance, but how quickly Grande and Davidson have moved since they were first reported to have started dating is definitely surprising. The couple reportedly began dating sometime in May, and it's still not exactly clear when the two became romantically involved. Since then, they've reportedly gotten engaged to be married and are now reportedly cohabiting, according to People. Grande may or may got have confirmed this new step that she's taken in her relationship with Davidson in her Instagram stories. She posted a picture from Spongebob Squarepants holding up a tissue with the caption, "Us in our new apartment with no furniture 1 speaker and red vines" — which definitely had people thinking that she and her new husband-to-be are officially moved in.
Elite Daily reached out to representatives of both Grande and Davidson for comment, but did not immediately hear back.
Moving on together is the logical next step for any romantic relationship that's going well. But with Grande and Davidson, it's seemed to move so fast. I mean, I guess when you know you know — right?
If you're just as confused about Grande and Davidson's relationship as I am, let's try to break it down just so everyone is on the same page. Luckily, the internet exists and, so we have some pretty glorious conspiracy theories about the whole thing. One kind Twitter user named Nicole Boyce did everyone a solid by literally writing out this relationship timeline. According to her calendar (bless her soul), Grande confirmed her breakup with ex Mac Miller on May 9. Boyce also notes that rumors of Miller allegedly cheating on Grande began swirling sometime between February and April of this year. That means that Grande and Miller could have been broken up for much longer before making their split public, so exactly when they parted ways is still a huge question mark.
Davidson, on the other hand, is a different story. He had been dating his ex Cazzie David (daughter of Seinfeld co-creator Larry David) for almost two years when they former couple split sometime in May 2018 as well, which became public on May 16. According to Boyce's timeline, Grande and Davidson were spotted at an Saturday Night Live afterparty together on May 12, so it makes sense that the two become romantically involved there. According to a report from TMZ, Davidson and David were reportedly "on a break" sometime in May when his relationship with Grande sparked, but weren't necessarily broken up completely.
On May 21, E! News reported that Grande and David started seeing each other, and not long after that on June 11 the couple reportedly started telling people that they are engaged. Grande has been photographed sporting a massive rock on a very particular finger since the rumors of their engagement began, and Davidson seemingly confirmed it in an Instagram with a picture of Grande's ring and her hands in his. The caption read, "u know what you'd dream it be like ? it's better than that" I mean, what else could he possibly be talking about there. These two are for real.
How soon will the world see a Grande/Davidson wedding? With the rate that they're going, I wouldn't be surprised if I found out that they flew to Vegas and eloped.