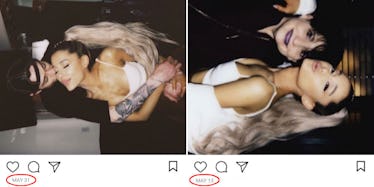 This Viral Ariana Grande & Pete Davidson Dating Conspiracy Theory Is Mindblowing
Instagram/ArianaGrande
The Twitterverse never ceases to amaze me, y'all. Sure, it's got funny memes and political rants, but sometimes, there are gems of information just waiting to be explored. And you know what? There is an Ariana Grande and Pete Davidson timeline conspiracy theory that was recently unearthed, and I promise that it will actually blow your damn mind.
Let's backtrack for a quick sec: On May 21, E! News reported that Grande and Davidson were an item, with a source close to the couple telling the site, "It just started and is casual." Elite Daily reached out to both Grande and Davidson's teams for comment on this new report, but did not hear back by the time of publication.
So, let's flash forward to just a few weeks later on June 11 to a new report from Us Weekly that revealed that Grande and Davidson "were telling people that they're engaged" at Robert Pattinson's birthday party in Los Angeles on June 9. Elite Daily reached out to both Grande and Davidson's teams for comment on the reported engagement, but did not hear back by the time of publication.
Many fans are surprised at the reported engagement, mainly because the relationship is so fresh and new, and both Grande and Davidson were just coming out of relatively long relationships before it was reported that the pair were dating each other. But Twitter user Nicole Boyce (who's also a stand-up comedian) was like, "Let me help you all out here," and made a LITERAL TIMELINE of everything we know so far about Ariana Grande and Pete Davidson's relationship:
Nicole, you are a pure, pure soul, and I love you for it. On this timeline calendar, you'll see events like Ariana's breakup with Mac Miller (May 9), and Davidson's breakup with Cazzie David (May 16), as well as possible dates other notable events occurred — like when Grande's reported engagement ring had to be made (May 26 — since it was reported that her custom-made engagement ring took two weeks to make and the rumored engagement took place on June 9).
Twitter users went nuts over the timeline:
Now, I know what you're thinking. You're saying to yourself, "Wow, this is an incredible gift to have, and my mind is blown by all of this information." But what if I told you...
A MAJOR, MAJOR DETAIL WAS MISSED?
Family and friends, have I got some revelatory news for you, and it comes in the form of yet another tweet. In response to the timeline calendar picture, one Twitter user noticed that the ~iconic~ photo of Pete Davidson kissing Ariana Grande might have actually been taken at an earlier time. She wrote,
I deeply respect this research but you have missed an important clue. Ariana posted this IG of them kissing on May 31 but it's the same look/hair/polaroid as her IG from May 13
Do you see that her hair and makeup is EXACTLY the same as the photo uploaded on May 13? Do you see that her outfit is exactly the same as well? Meaning that Pete Davidson might have been kissing Ariana Grande just ten days after his ex Cazzie David posted this photo calling him her BFF:
And if the fan theory is correct, it also means he was kissing Grande's cheek THREE DAYS before his breakup with David was confirmed.
WORLD, I AM SHOOKETH. I am shooketh to my core.
Other Twitter users were equally blown away by this revelation:
I think I can speak on behalf of the entire universe when I say that "whoa" is the perfect word to describe all of this information.
And if you're thinking to yourself that this timeline clearly doesn't make sense, you're not alone. According to Refinery29 writer Kathryn Lindsay's theory, it's possible that Grande and Davidson have been together a lot longer than any of us even know. She wrote about the wonky timeline:
... the latest Davidson could have called [designer] Yuna about the ring is May 19, two days before the 'casual' relationship was announced; two days after Us Weekly reported his split from David; a week after he and Grande were seen hanging out at the SNL after party. This relationship has moved fast, but even that is pushing it. The tattoos, the ring, the social media fawning: this feels less like the behavior of a brand new couple and more like the behavior of a couple who has finally been allowed to brag about their relationship.
And furthermore, Refinery29 reported that sources who attended his gig at Kenyon College in Ohio on April 21 said that Davidson mentioned to the audience that he and his girlfriend at the time would probably get married. Many assumed that he was talking about David, but, as Refinery29 points out, what if it was about Grande? Lindsay theorized:
If Davidson did refer to David as the girlfriend he was probably going to marry, this marks the most recent time that we know they were still together, but also makes his sudden engagement to Grande even more confusing. BUT! If he didn't refer to his girlfriend by name because he was secretly dating Grande, then the rest of this timeline makes a lot more sense.
Elite Daily reached out to Grande and Davidson's teams for comment on the report and the resulting theory, but did not hear back by the time of publication.
Is your head spinning? Because my head is spinning.
So what does this all mean? Were Davidson and Grande having an affair? Or did both stars just not announce their breakups until long after they happened? Or are we all just totally off base about the timeline and totally overthinking this thing? Honestly, I couldn't even tell you. All we can do now is see where this story takes us from here.