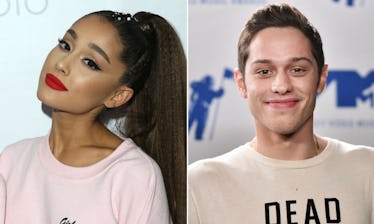 Here's The Unreal Price Pete Davidson Reportedly Paid For Ariana Grande's Engagement Ring
Jesse Grant/Alberto E. Rodriguez/Getty Images
World, are you sitting down for this? You might want to take a seat if you're still standing. As we all should know by now, Pete Davidson and Ariana Grande are reportedly engaged after just a few weeks of dating. But now, we're finding out how much that sparkly not-so-little ring on Grande's finger reportedly costs, and your jaw will literally drop to the floor once you hear the number. So, what is Ariana Grande's engagement ring worth? According to TMZ, that gorgeous rock cost nearly $100,000 — $93,000 if you want to be exact. Ka-ching.
Sources close to the reportedly engaged couple tell the publication that the custom-made ring was commissioned by NYC jeweler Greg Yuna and is a "VVS1 clarity diamond set in platinum." The source also told the publication that the ring took two weeks to complete. Can't rush perfection, amirite?
According to a report from Us Weekly, Grande and Davidson "were telling people that they're engaged" at Robert Pattinson's birthday party in Los Angeles this past Saturday, June 9. Elite Daily reached out to both Grande and Davidson's teams for comment, but have not heard back at the time of publication.
While the news seemed a bit sudden and perhaps maybe not true, the fact that Grande has been wearing what certainly looks like an engagement ring for weeks makes me believe otherwise. How we didn't catch a ring that costs nearly $100K on Grande's finger is beyond me, but once you look at that ring, you can't help but salivate a little.
BRB, gotta go find shades to block that bright, shiny, bling.
I mean, just looking at that HUGE diamond, does the cost really surprise you?
LOL, nah.
If all of this is information overload for you, let's take a step back. On June 11, after news of the couple's reported engagement broke, a source told Us Weekly that Grande and Davidson are "very in love" and plan on taking their time with wedding planning.
One source said, "They are a perfect fit. They are not rushing to get married ... Their friends are really excited and supportive." A second source added,
They are both constantly making each other laugh ... Their moms have met. They've been very public with their relationship on social media, and they are very in love.
I'd be very in love with someone who is willing to shell out nearly $100K for a piece of jewelry for me, too. Just sayin'.
A third source said, "They are looking forward to a very long engagement together." D'awww! Elite Daily reached out to Grande & Davidson's teams about the report, but did not hear back by the time of publication.
Neither Grande nor Davidson have confirmed the reported engagement, but I feel like all signs are pointing to yes on this situation. Elite Daily reached out to Grande & Davidson's teams about the rumors, but did not hear back by the time of publication.
OK, so now that the whole "reported engagement thing" has sunken in, and the whole "$100K engagement ring" has been digested, let's get to what's going on right now with Grande and Davidson: DISNEY!
Apparently, Ariana Grande and Pete Davidson took a trip to Disneyland and many fans think that it's the couple's way of celebrating their engagement.
On Monday, June 11, Davidson and Grande were seen hoppin' off a roller coaster together at Disneyland in Anaheim, California:
And Grande herself shared videos of her and her rumored fiancé enjoying the rides, and in one video Grande shared, we see Davidson screaming on a ride which she captioned, "when I get on top":
SCANDALOUS!
Ariana and Pete, if you're reading this: It's totally cool that you're not taking things slow. Just do us a favor, and try to drop one bombshell at a time, okay? That way, the rest of the world can keep up. Thanks!