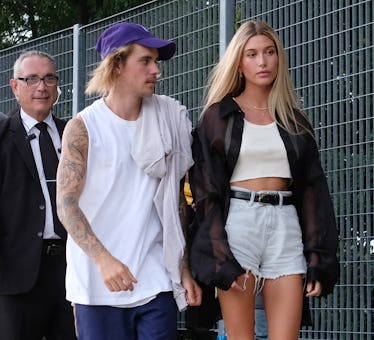 Hailey Baldwin Reportedly Suggested A City Hall Wedding For A Romantic Reason
Nicholas Hunt/Getty Images Entertainment/Getty Images
Yes, Pete Davidson and Ariana Grande are officially over, but we don't have to give up on the hope of a whirlwind romance actually working out quite yet! That's right, people. We still have Hailey Baldwin and Justin Bieber, who reportedly got hitched in a city hall ceremony last month after reuniting earlier this year. So, whose idea was it to get married there? Well, Hailey Baldwin reportedly wanted a city hall wedding for a seriously romantic reason.
Just to be clear here, the couple isn't totally ditching the idea of a fancy ceremony and reception down the road. According to a source who spoke to PEOPLE, the model simply suggested that they have the New York City courthouse wedding first in addition to a bigger ceremony in front of friends and family at a later date.
The source told PEOPLE that Baldwin wanted to marry Bieber as soon as possible to prove to the world that, despite what the haters may say, their love really is here to stay.
"The city hall marriage was her idea. It was 'you and me against the world,'" the source told PEOPLE. "Let's show [everyone] we're serious and it's not just some crazy fling."
But don't worry. Baldwin is 100 percent aware of what she's getting into. She's not just marrying Bieber to prove the haters wrong.
"Hailey is a very bright girl. She's not just blindly adoring Justin and doing whatever he wants," the source told PEOPLE. "She's wanted to be with Justin for a very long time."
PEOPLE also obtained court documents that show Baldwin recently filed to register the name "Hailey Bieber" for a clothing line, though it's unclear if she intends to use that name for herself, as well. She also filed to register the names "Hailey Baldwin" and "HRB3" for other potential clothing lines, so it doesn't sound like she's fully set on changing her name right now.
No matter what her last name is, one thing is clear: Baldwin is very much in love with her new husband.
"He is incredible," she gushed in her recent interview with Harper's BAZAAR. "He crushes everything. Every song, every feature. It's crazy to see what he does. I'm always blown away."
She also took the interview as an opportunity to open up about how she's dealing with the intense public scrutiny. "I've had more attention on me than I've ever had in my life," she told the publication. "It's easy to not think about your mental health or your physical health because you keep pushing, pushing, pushing. Before this year, I wasn't balancing anything."
Whatever the future holds for Baldwin and Bieber (more music? a clothing line? a gorgeous bash to celebrate their marriage?), it sounds as if they're prepared to tackle it together as a united front. They're a loving, dedicated, committed team, and their relationship is seriously inspiring.
Check out the "Best of Elite Daily" stream in the Bustle App for more stories just like this!