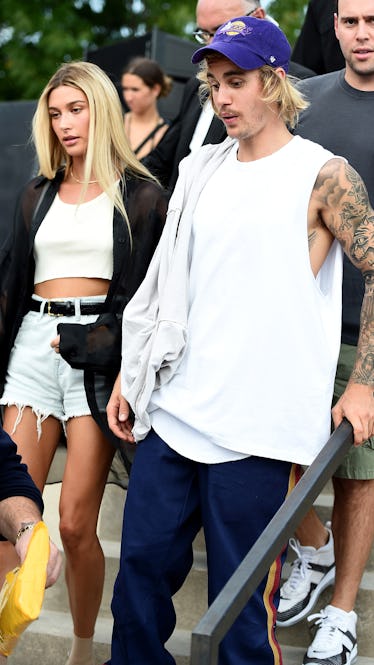 What Hailey Baldwin Reportedly Just Did Could Mean She's Actually Married To Justin Bieber
Theo Wargo/Getty Images Entertainment/Getty Images
The world has one question for Justin Bieber and Hailey Baldwin: Are you married or not? My god. The mystery is doing my head in. But what Hailey Baldwin just did could hint at their current relationship status. Hailey Baldwin filed to trademark Justin Bieber's last name, according to a report by TMZ. And if it's true, I am totally and utterly shooketh. Elite Daily reached out to Baldwin's team for confirmation on the report, but did not hear back by the time of publication.
So, just for some background, there's been some serious back and forth in the press when it comes to Baldwin and Bieber's marital status. First, it was reported that they tied the knot in a courthouse wedding on Thursday, Sept. 13, in New York City. So everyone thought the pair was married for a hot second, until Baldwin hopped on Twitter to deny the rumors, tweeting, "I understand where the speculation is coming from, but I'm not married yet!" So then, everyone thought they weren't married.
But Baldwin ended up deleting that tweet, and then Bieber reportedly referred to Baldwin as his wife during a trip to the Stratford Perth Museum in Ontario, Canada to see their new Justin Bieber exhibit in early October. Here's Stratford Perth Museum's post about that whole ordeal, where they claimed in the comments that "Justin very graciously introduced Hailey as his wife." (Elite Daily reached out to Bieber and Baldwin's teams about the museum's claims, but did not hear back at the time of publication.)
Anyway, let's just say Bieber and Baldwin's fans don't know what to believe.
Now TMZ is reporting that Baldwin has gone and filed an application to register the trademark for the name "Hailey Bieber." Apparently, the application doesn't give much away other than the fact that she's reportedly filing to trademark the name, but what's reportedly made clear in the application is that the trademark is meant to cover a possible clothing project in the future. (As a reminder: Hailey and her team have yet to provide Elite Daily with a comment on her reported trademark application or the hope for a clothing project in the future.)
Now, tell me this: Why would Hailey Baldwin be filing to trademark Hailey Bieber if she wasn't married to Justin Bieber? If it's true, I suppose there is the possibility she could just be getting her ducks in a row for when she does finally marry Bieber, but that seems pretty premature. And can you even do that, like, legally? I'm not a lawyer, y'all.
Anyway, what's definite is that filing to trademark Hailey Bieber is not the same as filing to actually change your last name. So even if Baldwin did file this supposed trademark application, it doesn't necessarily mean she's officially married or that she's actually Hailey Bieber.
According to Entertainment Tonight, the pair is reportedly legally married, but want to keep their relationship private for now, and that's why Bieber isn't wearing a wedding ring as of now. An inside source reportedly told the publication,
Justin and Hailey are legally married, but Justin is telling friends he isn't planning on wearing a wedding band for a while. As much as Hailey and Justin are public about their relationship, they are trying not to make a spectacle of it, and that is why they kept their marriage under wraps and got engaged without telling anyone.
Elite Daily reached out previously to Bieber and Baldwin's teams about the report that they're already married, but did not hear back at the time of publication.
Basically, at the end of the day, fans still know absolutely nothing about Bieber and Baldwin's current relationship status. We're still as confused as ever. Oy vey.