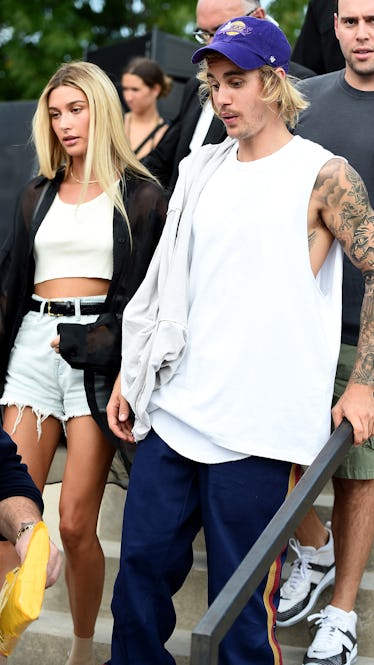 Hailey Baldwin Responded To Rumors That She Already Married Justin Bieber With One Tweet
Theo Wargo/Getty Images Entertainment/Getty Images
Well, it looks like Justin Bieber and Hailey Baldwin may have pulled a fast one on us. While there were conflicting reports about when the lovebirds would marry, with some reports claiming the wedding was right around the corner and others claiming they were going to have a long engagement, it looks like Bieber and Baldwin went ahead and said, "I do!" Justin Bieber and Hailey Baldwin got married Thursday, according to a report by People. Elite Daily reached out to both Bieber and Baldwin's team about the report but did not hear back by the time of publication.
UPDATE: False alarm, everybody. Hailey Baldwin just took to Twitter to shut down the reports that she and Justin Bieber were already married with a simple (and surprisingly patient) tweet, writing: "I understand where the speculation is coming from, but I'm not married yet!"
EARLIER: Just about two months after announcing their engagement, People is reporting that Bieber and Baldwin threw caution to the wind and apparently tied the knot on Thursday, Sept. 13 in New York City. "They went ahead and did it without listening to anyone," a source close to the couple reportedly told People.
The couple was reportedly legally married at a courthouse, but is going to have a religious ceremony for their family and friends soon. "They're going to have a big blowout, in front of God and everyone they love," a source told People.
Buzz about the couple finally tying the knot started building on the afternoon of Sept. 13, when they were spotted entering a New York courthouse where marriage licenses are issued, according to a photo obtained by TMZ.
Despite the bare-bones nature of their reported nuptials, the ceremony still packed the emotional punch you'd expect from a wedding, apparently. Bieber reportedly told Baldwin, "I can't wait to marry you, baby." And People reports he said it emotionally, so that's sweet.
Bieber also reportedly told a court official, "Thanks for keeping it on the DL." That didn't last long though, obviously.
If your head is spinning from how fast this all reportedly went down, you're definitely not the only one. It was reported that Bieber and Baldwin had been planning a small ceremony for family and friends, and if they did, in fact, get married like People reports, they didn't even invite the fam, so imagine how they must feel right now! There's, of course, a chance Bieber and Baldwin only went to the courthouse to get a marriage license (not to actually say, "I do," on the spot), which would mean that even if they didn't get married, the wedding must be around the corner.
But even assuming this report is true and Bieber and Baldwin are happily married, the wedding coming this quickly really shouldn't come as a complete shock. Remember when they got engaged? Bieber hopped on Instagram and literally gushed non-stop about how much he loved Baldwin in a novel-length caption, writing:
Was gonna wait a while to say anything but word travels fast, listen plain and simple Hailey I am soooo in love with everything about you! So committed to spending my life getting to know every single part of you loving you patiently and kindLY. I promise to lead our family with honor and integrity letting Jesus through his Holy Spirit guide us in everything we do and every decision we make. My heart is COMPLETELY and FULLY YOURS and I will ALWAYS put you first! You are the love of my life Hailey Baldwin and I wouldn't want to spend it with anybody else. You make me so much better and we compliment eachother so well!! Can't wait for the best season of life yet!. It's funny because now with you everything seems to make sense! The thing I am most excited for is that my little brother and sister get to see another healthy stable marriage and look for the same!!! Gods timing really is literally perfect, we got engaged on the seventh day of the seventh month, the number seven is the number of spiritual perfection, it's true GOOGLE IT! Isn't that nuts? By the way I didn't plan that, anyways My goodness does feel good to have our future secured! WERE GONNA BE BETTER AT 70 BABY HERE WE GO! "He who finds a wife finds a good thing and obtains FAVOR from the Lord!" This is the year of favor!!!!
Yeah, I can totally see a guy that writes gushy captions like this saying, "Let's just do it!"
I'm sure they planned on waiting a while to say anything about their reported wedding, but like Bieber said: word travels fast.
Congrats, Justin and Hailey!