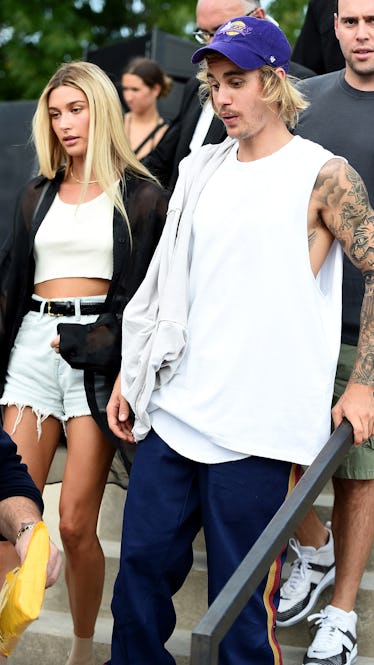 What Justin Bieber Reportedly Called Hailey Baldwin In Public Could Mean They're Married
Theo Wargo/Getty Images Entertainment/Getty Images
Justin Bieber and Hailey Baldwin are raising some eyebrows once again. After a whole summer of flaunting their incredibly fast-paced romance, the two lovebirds are giving the media another run for their money. Bieber reportedly called Baldwin his wife during a visit to a museum and that's raising one important question: are Justin Bieber and Hailey Baldwin married?
Well, a new report from TMZ makes a good case for them actually being married. Elite Daily reached out to Bieber and Baldwin's team for comment on the report, but did not hear back by the time of publication.
According to TMZ, Bieber and Baldwin reportedly married sometime in Sept. 2018 in New York City. So, the fact that Bieber reportedly called Baldwin his wife during a trip to the Stratford Perth Museum in Ontario, Canada makes total sense.
The loving couple made the trek out to the museum to see its new Justin Bieber exhibit. While there, Bieber reportedly introduced Baldwin as his wife, at least according to the museum's Instagram account.
Thanks to the influx of fans seeing the exhibit, the Stratford Perth Museum reserved a wall for them to show their love for the singer. Even Baldwin shared a sweet message on the wall during her visit. As expected, she declared her love for Bieber in her signature and the museum shared a photo of it with the world.
Here's a look at what Baldwin wrote on the museum's wall:
The museum captioned the photo with, "I ❤️you forever-Hailey B". We were so pleased to have such a warm and special guest visit the museum yesterday (along with her very special husband 😊)."
After the museum referred to Bieber as Baldwin's husband, fans started to ask questions about whether the two were actually married or if maybe Bieber was just using a term of endearment. Thankfully, the Stratford Perth Museum decided to ease everyone's intense curiosity about the couple.
"Justin very graciously introduced Hailey as his wife," the museum wrote in a comment. "Perhaps just a term of endearment? We loved their visit."
While that's all fine and good, it does nothing to help fans discern whether Bieber and Baldwin actually are married. TMZ's new report, however, is asserting that they are. According to TMZ, the two reportedly exchanged vows the very same day they got their marriage license in New York — Sept. 13. TMZ names Jeffrey Quinn as the preacher on hand and fellow church-goer Josh Mehl as the witness to the marriage. So, it all seems pretty legit, but who knows?
TMZ also says that the couple reportedly married without a prenup, which is a big deal in Hollywood. Apparently, their love is too strong to even consider it.
While there's been no direct confirmation of these reports, the speculation is enough to make all the Bieber-Baldwin supporters out there go wild. Thankfully, they have a place to channel all their feelings about the alleged nuptials: the Stratford Perth Museum. Their Justin Bieber exhibit will be open through Oct. 2019, so fans can head there to feel all the Bieber-Baldwin love.