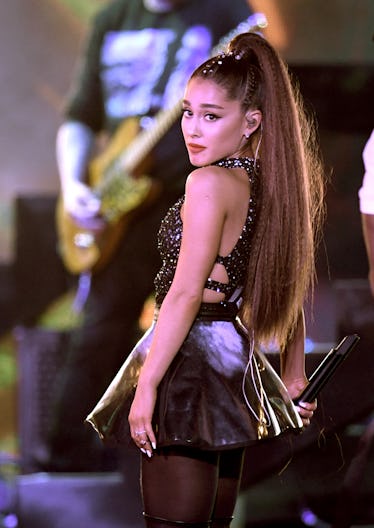 This May Be The Sad Reason Ariana Grande Covered Her "Pete" Tattoo With A Black Heart
Kevin Winter/Getty Images Entertainment/Getty Images
It's been over a month since Ariana Grande and Pete Davidson broke off their engagement. When news broke back in October 2018 that the two stars would no longer be getting married, both remained civil and sparked hope that they might reunite someday. But Grande is now giving fans reason to believe that a reunion will likely never happen and she's doing it with a newly covered tattoo. Ariana Grande covered her "Pete" tattoo and the reason behind it that she seemingly shared on Twitter is genuinely sad, but also totally understandable.
Grande first unveiled her "Pete" tattoo, which appeared on her left ring finger, back in June after just a few weeks of dating Davidson. And now, in its place is a black heart, similar to the one Davidson has on his neck. Davidson's black heart tattoo was also a cover-up: he once had a bunny ear tattoo that paid homage to Grande's "Dangerous Woman." So, both Grande and Davidson are doing what they can to get rid of things that remind them of the relationship.
In any case, Grande's "Pete" tattoo is now covered up by a black heart with an arrow going through it. And while that seems innocent enough, Grande may have already provided an explanation for why the black heart was appropriate in this situation.
You can check out Grande's new tattoo down below:
On Nov. 15, Grande tweeted a black heart and a curious fan replied to her and asked if the heart had a deeper meaning than meets the eye.
"Is the black heart some sort of tea or am i reaching," the fan said.
Grande responded with a simple but heartbreaking tweet. "Jk i'm empty and my heart is black now so," the singer wrote.
So, maybe that breakup with Davidson, as amicable as it seemed to be, really did cause more heartache than Grande initially let on. But there may also be more behind Grande's comment than just her breakup with Davidson.
Let's not forget that Grande also lost her ex-boyfriend Mac Miller in September 2018. By all accounts, his death has affected her emotionally and may have even contributed to the troubled times in her last days of romance with Davidson.
In an Oct. 15 report from People, which was published just a day after news of Grande and Davidson's split went public, a source close to the situation revealed that Grande was devastated by the rapper's death. Her devastation apparently seeped into her relationship with Davidson.
"It was devastating and shocking to her. It's had a huge, negative impact on her life. It made her rethink many things in her life," the source said. "She realized that planning a wedding right now felt very rushed. It's not what she wants to do right now. She doesn't want to make any rushed decisions and has decided to take a step back instead."
Needless to say, Grande has had a really tough year and times like these can weigh heavy on a person who is dealing with so much. Let's all hope she's getting the support she needs from family and friends. In the meantime, she's pumping out hits like nobody's business, so at least she's getting some much-needed music therapy!